Vardanyan should face Western sanctions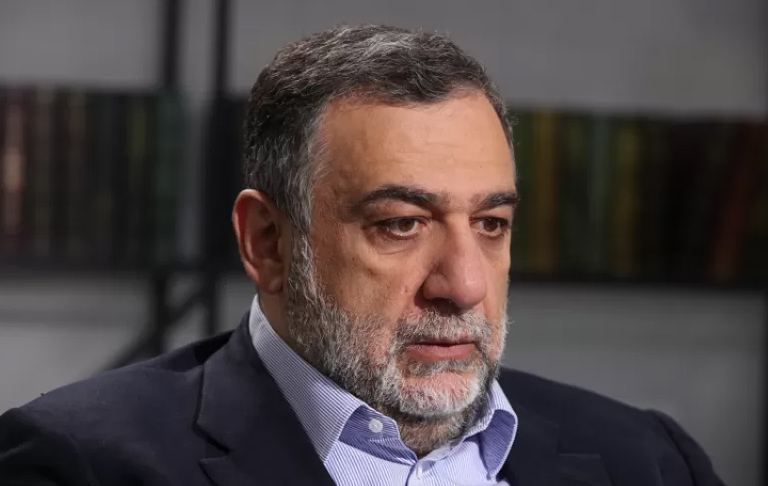 Ruben Vardanyan, a fugitive Russian billionaire of Armenian origin, who recently took over separatists in Karabakh, in one of his interviews, has called on the US, the EU, and Russia to impose sanctions on Azerbaijan for the alleged "blockade" and "humanitarian crisis" that Azerbaijan "created" for the residents of Khankendi.
Meanwhile, the peaceful protest of Azerbaijanis on the Lachin-Khankendi road against the illicit exploitation of Azerbaijan's mineral resources in the area of Russian peacekeepers' temporary deployment has been going on for over a month. And over this time, the road, which is basically the only way for the residents of Khankendi to go back and forth to Armenia, has been open to any humanitarian purposes needed.
And, nevertheless, countless proofs of dozens of cars of Russian peacekeepers and Red Cross vehicles driving from Lachin to Khankendi and back do not stop separatists from making up bizarre stories about cruel Azerbaijanis mistreating "poor starving Armenians".
Moreover, Armenians keep falling into the same trap over and over again. Deliberately distributing footage of staged empty stalls in the markets and stores of Khankendi, they forget to "clean up" their profiles on social networks, which prove anything but them "starving".
In one of his interviews, Vardanyan begged the international community to force Azerbaijan to open an "air corridor" from Khankendi to Armenia. Little does he know, that the same international community, some 10 years ago, has already expressed its opinion on this issue. The International Civil Aviation Organization (ICAO) and the European Civil Aviation Conference (ICAC) have supported the position of Azerbaijan on the Khankendi airport to remain closed and, if any provocations happen, all legal measures, including physical elimination, would be taken against any aircraft flying to Khankendi without Baku's permission.
The most interesting thing is that a person with such a reputation as Vardanyan, should not make such bold, statements about sanctions against the whole country. Back in 2019, more than twenty members of the European Parliament demanded sanctions against him for an alleged conspiracy to launder money from Russia through offshore companies and transfer abroad.
Moreover, Ukraine has also sanctioned Vardanyan for his company providing logistic support to the Russian army.
At the same time, a number of foreign governments became interested in Vardanyan's business in Karabakh. In particular, authorities in EU countries are interested in where the proceeds from the sale of illegally mined metals go.
The Organized Crime and Corruption Reporting Project (OCCRP) has published an extensive investigation into his illegal operations. Apparently, he has been laundering money of Russian oligarchs to the West. According to OCCRP, from 2006-2013, more than $4.5 billion passed through various accounts. During this time, about $9 billion was laundered and withdrawn from Russia.
At that time, journalists had about 60,000 financial documents in their hands, which "leaked" from the Lithuanian Ukio bank, which was closed in 2013. The study of these documents has shed light on numerous schemes and financial ploys. Thus, the network created by "Troika Dialog" included at least 75 interconnected offshore firms, some of which opened accounts with Ukio. The "directors" of many of these firms turned out to be ordinary seasonal workers from Armenia. The authors of the investigation found one of them in Vanadzor. The signature of 34-year-old Armen Ustyan, who lives in extreme poverty, is on the financial documents of one of Troika's offshore companies for $50 million. The authors of the investigation found several citizens of Armenia, whose passport data ended up in the hands of the organizers of the laundromat, and their signatures were simply falsified.
In 2022, Vardanyan escaped Western sanctions by demonstratively renouncing Russian citizenship and moving to Karabakh. Still, both Vardanyan, and the entire Armenian community, continue to convey their pleas for some kind of sanctions against Azerbaijan.
Vardanyan's criminal business activities both in Azerbaijan and beyond should be closely investigated by international legal forces and law enforcement agencies. Moreover, sanctions should be applied to him.
---
Follow us on Twitter @AzerNewsAz