10 November 2017 17:29 (UTC+04:00)
2 625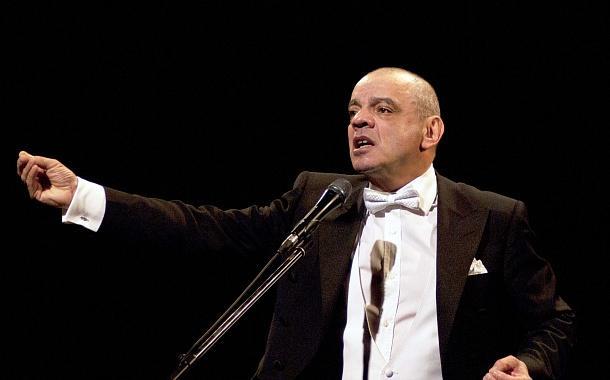 By Aygul Salmanova
For the first time in Baku on December 22 and 23, the Russian State Theater "Satyricon" named after Arkady Raikin will be on the stage of the Azerbaijan State Russian Drama Theater.
On December 22, a poetic solo performance "Konstantin Raikin. His Voice" will be presented to the Baku audiencel. This is a solo performance where the art director of the theater, People's Artist of Russia Konstantin Raikin reads poems of his favorite poets: David Samoilov, Nikolai Zabolotsky, Nikolai Rubtsov, Osip Mandelstam, Lope de Vega, Alexander Pushkin, prefacing the works of each author with his comments.
"What I do in this performance is similar to myself, and I myself consist of different genres. Poetry, especially high poetry, is a special state of mind ... For me, reading poems and reading monologues are same. They are subject to the same laws of scenic existence that any drama role. Now I feel a wave of interest in real poetry. People lack some vitamin in their spiritual food. Some good phrases, beautiful speech..."
Pushkin read - fewer bacilli in the air will remain. He is like sound of a bell... a prayer...
My father used to tell me: "Always read poetry, do it no matter who your audience is. This will help viewers understand you more deeply and look at life at different levels," noted Konstantin Raikin.
On December 23, the audience will be presented with a poetic solo performance "Konstantin Raikin. His Voice", where the People's Artist of Russia reads poems of the poet David Samoilov, as well as Moliere's production of "The Doctor in Spite of Himself".
The duration of the performance, which is without intermission is two hours.
"The Doctor is involuntary" is a three-part comedy (12+).
Director - Konstantin Raikin, scenography - Boris Valuev, costumes - Maria Danilova.
The duration of the evening is 2 hours 30 minutes with one intermission.
---
Follow us on Twitter @AzerNewsAz