Carlsen still tops Gashimov Memorial, Nakamura wins Mammadyarov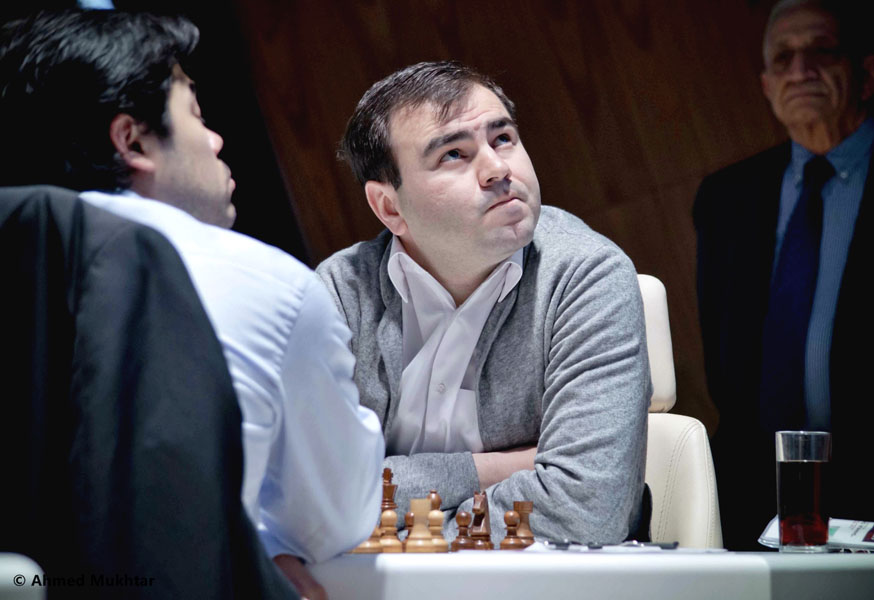 By Nazrin Gadimova
Magnus Carlsen continues to top the Gashimov Memorial by a point over the other participants, following the results of the third tour of the tournament held on April 22.
After five hours of fighting, Sergey Karjakin, the World Champion in rapid chess from Russia and Carlsen, the reigning World Champion from Norway, agreed to a draw.
The match between Azerbaijan's Teymur Rajabov and Italy's Fabiano Caruana also ended in a draw on the 27th move, while the game of American Hikaru Nakamura and Azerbaijani grandmaster Shahriyar Mammadyarov, one of the memorable events of the A tournament, ended in victory for the American player.
Carlsen leads the standings of the A tournament with 2.5 points, leaving behind Caruana, Karjakin, Nakamura, and Rajabov with 1.5 points, and Mammadyarov with 0.5 points.
The B tournament's third round ended with French Etienne Bacrot's victory over Azerbaijan's Gadir Huseynov. Russian Alexander Motylev lost to Polish chess player Radoslav Wojtaszek, while Eltaj Safarli ended in a draw with Rauf Mammadov (both from Azerbaijan); Paul Elyanov (Ukraine) and Vasif Durarbeyli (Azerbaijan), and Wang Hao (China) and Nijat Abbasov (Azerbaijan) also made peace.
Standings after the second round of the B tournament is as following: Bacrot - 2.5 points, Elyanov and Abbasov - 2 points, Wang Hao, Wojtaszek, Motylev, and Safarli - 1.5 points, and Huseynov, Durarbeyli, and Mammadov - 0.5 points.
Speaking at a press conference after the round, Fabiano Caruana who ended the game in a draw said he had tried to play carefully.
"I made a mistake in the first round and lost victory," he said. "After three rounds, I think my results are satisfactory. Speaking about Magnus Carlsen's leadership, I must say he is a strong chess player. One just needs to stop him and play even better and prepare carefully for this."
Shamkir Chess 2014 opened in the Heydar Aliyev Center on April 19 and will run until April 30.
The grandiose event, organized by JSC Synergy Group, is being held within the framework of the "State Program on development of chess in Azerbaijan in 2009-2014" and is dedicated to world-famous Azerbaijani grandmaster Vugar Gashimov who passed away as a result of a serious disease in January.
Money prize of the A tournament, sponsored by "Synergy Group" is 100,000 euros, while the prize fund for this tournament will be 30,000 euros.