2 May 2013 09:44 (UTC+04:00)
1 176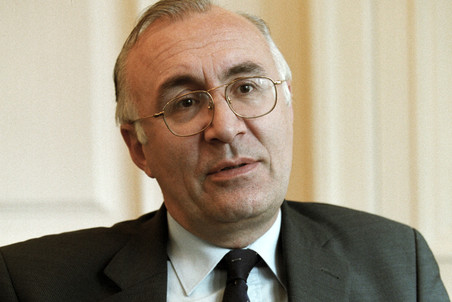 By Sabina Idayatova
Georgian Prime Minister's special representative on Russia Affairs Zurab Abashidze and First Deputy Foreign Minister of Russia Grigory Karasin will meetin Prague on 4-5 June, Abashidze said in his speech at NATO seminar in Tbilisi on Tuesday.

This will be the third meeting between Abashidze and Karasin since the change of government in Georgia after the parliamentary election in October, 2012. Their meetings have so far led to an agreement about allowing Georgian products back to the Russian market.
Georgia and Russia, its giant northern neighbor, have had no diplomatic relations since a brief war in 2008. Tbilisi broke off relations with Moscow in August 2008 when Moscow crushed a Georgian assault to reassert control over the two rebel regions -- South Ossetia and Abkhazia -- and later recognized the breakaway regions. Georgia announced the two unrecognized republics as occupied territories in September 2008.

"We will mull In Prague the period of five or six months that have passed since our last meeting. We will analyze the directions in which our relations are developing and how they are affected by the start of negotiations," he noted.

Abashidze said the discussions will also concern an introduction of a visa-free regime for certain categories of persons.

According to Abashidze, certain transport hindrances will also be solved.

"I mean the Kazbegi-Larsi check-point, which will start functioning 24 hours a day from June 1. This is necessary so that our export has the shortest route to Russia," he added.

"We have faced some criticism from the Georgian opposition in relation to the negotiations, but I want to note that we do not intend to replace the Geneva process with participation of international mediators and even moved the negotiations from Geneva to Prague," Abashidze noted.

Meanwhile, the Georgian FM Maia Panjikiizde said at a press conference on Monday that there are two formats of relations with Russia, the Geneva format and Abashidze-Karasin meetings, adding that no progress has achieved yet.

"We have never stated that we can deoccupy our country with the format of Abashidze-Karasin meeting. We are realists. This is a pragmatic approach, and we believe that this can improve the general status if we can identify common interests. We have outlined precisely the topics that were discussed: the economy, trade, cultural and humanitarian issues. The aggressive rhetoric which presented in the past will not be repeated, and this will improve the political climate," Panjikiizde said.
Furthermore, Panjikidze expressed hope for achieving some success within the Geneva format under the new regime.

"Nevertheless, it [Geneva format] is the only format where Georgia has a dialogue with Russia with the participation of international organizations and the United States, so it remains the most important one. Hopefully, in subsequent rounds, we will succeed in subsequent rounds," Panjikidze noted.

The first meeting of the Georgian and Russian Special Representatives was held in Geneva on December 14, 2012. The sides had agreed to hold such meetings once every two months.
Related News