4 May 2016 14:17 (UTC+04:00)
3 015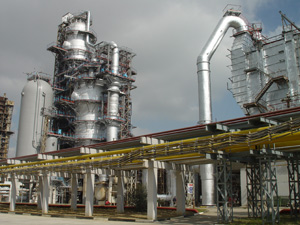 By Fatma Babayeva
Baku Oil Refinery Plant named after Heydar Aliyev signed a contract with French Air Liquide for the construction of a hydrogen production unit in the territory of the refinery plant, Azerbaijan's state-owned oil and gas company SOCAR announced on May 3.
The signing ceremony of the contract was attended by SOCAR's vice presidents- for refining David Mammadov and for strategic development Tofig Gahramanov, as well as, by Air Liquide's vice president for global engineering and construction solutions Domenico D'Elia and managerial representatives Jorg Ott and Benjamin Bugeat.
The contract was signed by the director of the Heydar Aliyev Baku Oil Refinery Elman Ismayilov and vice president of the Air Liquide Domenico D'Elia.
SOCAR plans to launch construction works in the framework of the modernization of Oil Refinery Plant in 2017.
The modernization of Baku Oil Refinery will be finalized by the end of 2020.
Once the modernization is completed, the processing capacity of the refinery will reach from 6 million to 7.5 million tons of oil a year. The preparation for the front end engineering and design (FEED) project will be accomplished by the end of 2016.
A number of facilities will be built in order to ensure the production of diesel fuel in Azerbaijan which meets Euro 5 standards by July of 2019. In addition, several units will also be constructed for the production of gasoline that meets Euro 5 standards by May 2020.
Moreover, a new asphalt plant will also be commissioned in July 2018 as well.
Earlier, SOCAR announced the elimination of the Azneftyag refinery and its merger with the Baku Oil Refinery named after Heydar Aliyev in January 2015. This decision was made as part of works carried out in order to improve and optimize the structure of the State Oil Company.
The modernization project will enable Azerbaijan to meet its domestic demand for motor gasoline in the next 15-20 years.
The Oil and Gas Processing Complex is another strategically important project realized by SOCAR in this direction. It will be constructed in about 60 kilometers of Baku.
The OGPC project has multiple interfaces not only between process units, utilities, and offsite facilities, but also between the new gas processing and petrochemical facilities.
The project is expected to finalize by late 2022 or early 2023. Its realization will improve the quality of oil and gas products and enhance the export potential of Azerbaijan.
Overall, the cost of the OGPC project amounts to $17.1 billion plus interests for allocated loans.
In accordance with the statistics, 5.45 million tons of oil products were produced in Azerbaijan during 2015 compared to 5.31 million tons of oil products manufactured during 2014.
In addition, 1.45 million tons of oil products were produced during the Q1 2016 compared to 1.34 million tons of oil products produced during the respective time period of 2015.
---
Fatma Babayeva is AzerNews' staff journalist, follow her on Twitter: @Fatma_Babayeva
Follow us on Twitter @AzerNewsAz
Related News