Iran offers SOCAR to participate in onshore oil fields' development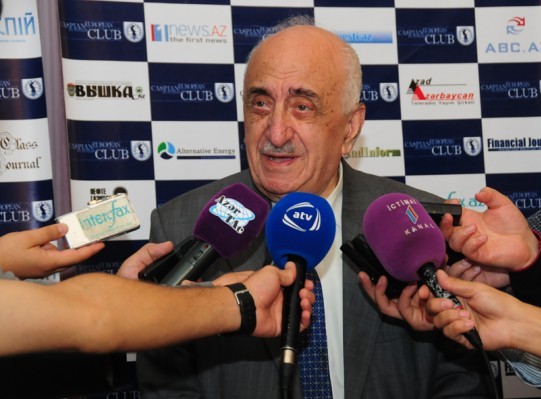 By Aynur Karimova
Iran has proposed Azerbaijan's state energy giant SOCAR to participate in the development of its onshore oil fields, First Vise-President of SOCAR Khoshbakht Yusifzade told journalists on December 1.
He said that SOCAR delegation has held a meeting with Iranian Oil Minister and his deputies within the framework of a visit to Tehran to join a conference dedicated to the presentation of Iran's new oil contracts.
"Iran wants foreign companies to operate again in the country after the lifting of international sanctions. During the conference, the Iranian side presented a number of projects that could be of interest to foreign investors, in particular on the four blocks in the Iranian sector of the Caspian Sea. But we were informed that the matter is not only maritime developments," he said adding that there was not a single contentious field among the projects presented by Iran.
"All of them are located in the Iranian sector of the Caspian Sea," he said.
Yusifzade further said that Iran expressed readiness to participate in the development of onshore oil fields jointly with Azerbaijan.
"We were told that if Azerbaijan wants to invest in the development of any onshore Iranian field, it will not meet any objections from Tehran," the SOCAR official stated.
As part of SOCAR delegation's visit to Tehran on November 28, SOCAR and National Iranian Oil Company discussed the possibility of implementing joint projects for exploration and production of oil and gas both in Azerbaijan and Iran, as well as in third countries as well..
Azerbaijan's energy giant SOCAR, which includes production associations Azerneft, made up of companies involved in the production of onshore and offshore oil and gas, Azerkimya, chemical industry enterprises, and Azeriqaz gas distribution, is involved in exploring oil and gas fields; producing, processing, and transporting oil, gas, and gas condensate; marketing petroleum and petrochemical products in the domestic and international markets; and supplying natural gas to the industries and public in Azerbaijan.
Also, SOCAR owns gas stations in Azerbaijan, Switzerland, Georgia, and Ukraine. It has representative offices in Georgia, Turkey, Romania, Austria, Switzerland, Kazakhstan, Britain, Iran, Germany, and Ukraine, along with trading companies in Switzerland, Singapore, Vietnam, Nigeria, and other countries.
--
Aynur Karimova is AzerNews' staff journalist, follow her on Twitter: @Aynur_Karimova
Follow us on Twitter @AzerNewsAz