Azerbaijan reveals volume of oil output from ACG block [UPDATE]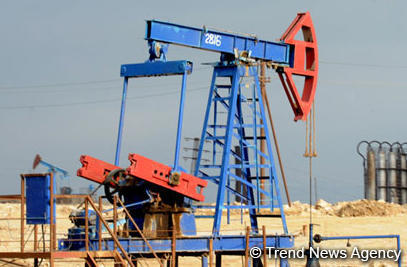 By Sara Israfilbayova
Azerbaijan has produced 438 million tons of oil and 138 billion cubic meters of associated gas from the Azeri-Chirag-Gunashli (ACG) block of oil and gas fields in the Caspian Sea since November 1997.
Alakbar Abbasov, adviser to first vice president of Azerbaijan's state oil company SOCAR, made the remarks at the SPE's 4th annual Caspian Technical Conference and Exhibition on November 1.
He went on to say that 246 million tons of the produced oil accounted for profitable oil.
"Of 459 million tons of oil exported by Azerbaijan, 342 million tons accounted for the export via the Baku-Tbilisi-Ceyhan pipeline," Abbasov added.
Further, touching upon Azerbaijan's oil output he mentioned that the country will reach 2 billion tons of oil output volume within the next few days.
"Since 1871, when the record of oil production was started, almost two billion tons of oil has been produced in Azerbaijan, while in the period of Azerbaijan's independence the country produced 700 million tons of oil," he said.
"Of this volume, 460 million tons of oil was produced from Azeri-Chirag-Guneshli oil and gas fields and condensate from Shah Deniz field, and the rest 240 million tons of oil extracted by SOCAR independently," Abbasov said.
A contract for development of ACG block of oil and gas fields was signed in 1994 for 30 years.
Thirteen companies from eight countries (Azerbaijan, the U.S., Great Britain, Russia, Turkey, Norway, Japan, and Saudi Arabia) have participated in signing of the "Contract of the Century".
Azerbaijan's state oil company SOCAR and BP-operated Azerbaijan International Operating Company (AIOC) signed an agreement on future development of the ACG field in December 2016.
The agreement will cover the development of the field until 2050 and will add significant resource development potential. The document specifies the key commercial terms for the future development of the ACG field and enables the parties to conclude negotiations and finalize fully-termed agreements in the next few months.
The ACG field, which lies 120km off the coast of Azerbaijan, is considered to be the largest oilfield in the Azerbaijan sector of the Caspian Sea.
The proven oil reserves of the block amounts to approximately 1 billion tons.
Shareholders of the ACG development include BP with 35.8 percent, Chevron - 11.3 percent, Inpex - 11 percent, AzACG - 11.6 percent, Statoil - 8.55 percent, Exxon - 8 percent, TRAO- 6.75 percent, Itochu - 4.3 percent and ONGC - 2.7 percent.
Addressing the conference, Abbasov stressed that since the beginning of operation in 2006, 86 billion cubic meters of gas and 21.5 million tons of condensate has been extracted from Azerbaijan's biggest Shah Deniz gas field.
He added that up till now Azerbaijan exported 6.5 billion cubic meters of gas to Georgia and 48.5 billion cubic meters of gas to Turkey via the South Caucasus Pipeline.
"As part of the first stage of development of Shah Deniz field, around 2.2 million cubic meters of gas are supplied to Georgia and around 19 million cubic meters of gas are supplied to Turkey," Abbasov said.
The Shah Deniz, discovered in 1999, is one of the world's largest gas-condensate fields. The field is located on the deep water shelf of the Caspian Sea, 70 km south-east of Baku, in water depths ranging from 50 to 500 m.
Shah Deniz field's reserves are estimated at 1.2 trillion cubic meters of gas.
The project shareholders are BP (28.8 percent), AzSD (10 percent), SGC Upstream (6.7 percent), Petronas (15.5 percent), Lukoil (10 percent), NICO (10 percent) and TPOC (19 percent).
---
Follow us on Twitter @AzerNewsAz