President Aliyev: Sargsyan with his lies could enter Guinness Book of Records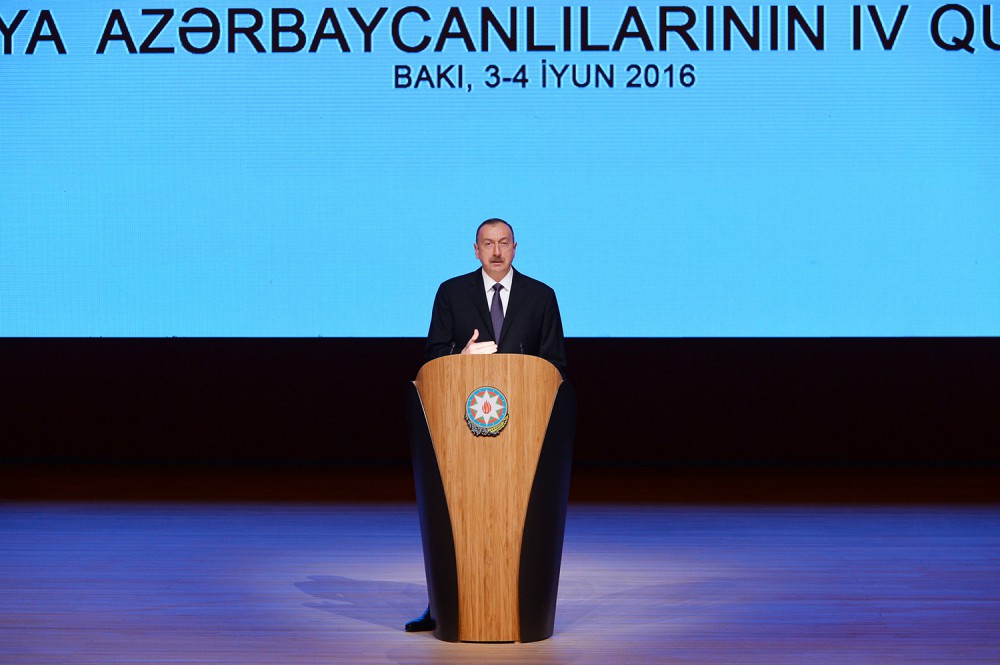 The 4th Congress of World Azerbaijanis kicked off in Baku on June 3, with participation of the country's President Ilham Aliyev.

President Aliyev noted that addressing the May 31 meeting of the Supreme Eurasian Economic Council in Astana, Armenian President Serzh Sargsyan lied four times.

"Everyone is aware of the results of the April battles. It is very surprising that in this situation, the Armenian leadership tries to deceive the world. It tries to deceive its people, and the international community as well," said the president.

"Now, as a result, Armenia put itself in a laughable position. First they said that they haven't lost territories, then said that on the contrary, they occupied the Azerbaijani lands, further they said that they have gained victory, then said that they have lost those territories and those lands have no value," said President Aliyev.

"Then they said that these territories have value and Azerbaijan should return those lands. If those territories have no value, then why should Azerbaijan return them? They got completely confused," added the president.

President Aliyev pointed out that the Armenian leadership exposed itself with its remarks.

"The latest example for this was the remarks made by Armenia's president during the recent meeting of the Supreme Eurasian Economic Council in Astana. He said that Azerbaijan carried out these activities in April, the "army of Nagorno-Karabakh" took control of the situation and Azerbaijan asked Russia to ensure the suspension of fighting. He lied four times in one sentence," said President Aliyev.

The president pointed out that Armenia was the instigator of the April battles, because it doesn't want peace.

When Armenia saw increasing pressure on it regarding the peaceful settlement of the conflict, changing the status quo which means the withdrawal of Armenian troops from the occupied lands, it resorted to provocations, said President Aliyev.
---
Follow us on Twitter @AzerNewsAz