Utah becomes next U.S. State to recognize Khojaly massacre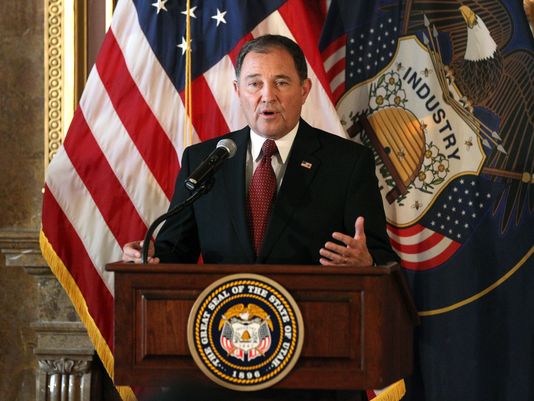 By Sara Rajabova
The governor of the U.S. State of Utah has condemned the Khojaly massacre, which was committed by Armenia against Azerbaijani civilians in 1992.
Gary R. Herbert signed a letter on March 2 recognizing and condemning the Khojaly Massacre.
The letter was received by the Consulate General of Azerbaijan in Los Angeles.
"On behalf of the residents of Utah, I express our sympathy to the people from Azerbaijan living in Utah and around the world, as you observe the 23rd anniversary of the Khojaly massacre and honor the 600 men, women, and children who were killed," Herbert said in his letter addressed to Nasimi Aghayev, the consul general of Azerbaijan in Los Angeles.
He further stated that "this tragic event is a sobering reminder of the atrocities that can be committed in wartime and the enduring need for greater understanding, communication, and tolerance among people from different religious, racial, ethnic, national, and cultural backgrounds."
Herbert concluded his letter by commending the efforts by the Consulate General of Azerbaijan in Los Angeles "to build bridges of understanding and relationships between people from Azerbaijan and the United States".
This is the first official document on the Khojaly Massacre signed by a Utah Governor. Thus, Utah became the 17th State of the U.S. to recognize the Khojaly massacre.
In 1992, the town of Khojaly came under intense fire from the towns of Khankendi and Askeran already occupied by the Armenian armed forces. 613 civilians mostly women and children were killed in the massacre, and a total of 1,000 people were disabled. Eight families were exterminated, 25 children lost both parents, and 130 children lost one parent.
Moreover, 1,275 innocent people were taken hostage, the fate of 150 of them remains unknown. Many civilians were shot at close range, scalped or burned alive.
The legislative bodies of many countries have already adopted resolutions recognizing the crime committed by Armenians against the peaceful people in Khojaly as genocide.
The parliaments of Pakistan, Mexico, Colombia, Romania, Serbia, Bosnia and Herzegovina, Czech Republic, Jordan, as well as legislative bodies of more than 15 states of the Unites States, including New-Mexico, Arkansas, Oklahoma, Pennsylvania, Connecticut, Western Virginia, New-Jersey, Tennessee and Arizona have adopted relevant documents.
--
Sara Rajabova is AzerNews' staff journalist, follow her on Twitter: @SaraRajabova

Follow us on Twitter @AzerNewsAz