22 January 2015 18:13 (UTC+04:00)
1 573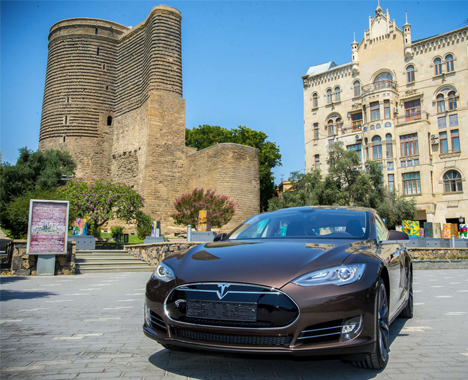 By Nigar Orujova
Urban dwellers of the busy cities around the world have already forgotten what the fresh air is. In Baku, the capital of oil-rich Azerbaijan, the situation is no better.
Over 1.2 million cars are riding along the roads of Azerbaijan, large parts of them concentrated in Baku.
An increase in the fuel consumption particularly gasoline, the need to modernize old processing enterprises, and the importance of improving the ecological environment pose new challenges to Azerbaijan.
Being hydrocarbonicaly rich, Azerbaijan introduced Euro-4 ecological standard last April to manage the situation and limit the import of old cars into the country.
At present, Azerbaijan is obsessed with the idea of reducing the dependence of the internal market of petroleum products and improving the environment.
Euro-4 standard, the rise on the excise rates of imported cars and the increase of fuel price, and other reasons will also tend to change the current situation.
Another step is introduction of green cars in the country. Today, Azerbaijan is supposed to broadly use vehicles working on electricity, including cars, buses, and motorcycles.
The increase of the number of electronic vehicles in the country can contribute to the solution of its main problems.
Moreover, the center for sale and service of electric cars, Green Car, has launched a large-scale innovative environmental project aimed at introduction the most modern technological advances in the country.
The project will present electric vehicles at the brand new Port Baku complex, where visitors can learn about these vehicles.
Azerbaijan also plans to place special charging devices along the streets, parking of Baku as well as highways of the country. Special stations are also expected to be set up.
This project will not only improve ecological situation, but also make Azerbaijan one of the leading innovative center of the region.
However, switch to electricity raises questions about its production. For this part, the country plans to develop its gas resources because it is the main raw material, which makes 92 percent, of production of electricity in the country.
Thus, the fuel of the ecologically safe cars will not be a problem in Azerbaijan. The last issue in this high-minded project is the price of such vehicles, which is not the cheapest.
Nevertheless, here, like in the development of alternative energy, these costs are justified. Hopefully, Baku residents will soon be able to breathe more fresh air.
--
Nigar Orujova is AzerNews's staff journalist, follow her on Twitter: @o_nigar
Follow us on Twitter @AzerNewsAz
Related News