13 November 2014 17:40 (UTC+04:00)
1 078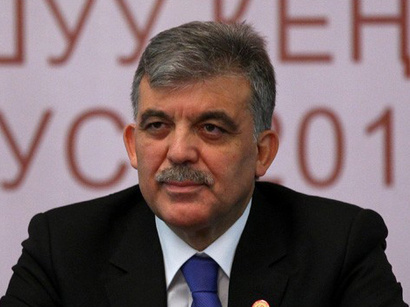 Preparatory issues of 3rd Global Shared Societies Forum to be held in Baku were mulled as Secretary General of Nizami Ganjavi International Centre Rovshan Muradov has met Turkey's ex-president Abdullah Gul.

The sides exchanged views on developing cultural relations between Azerbaijan and Turkey, as well as the role of Nizami Ganjavi International Centre in strengthening these ties, Abdullah Gul`s contribution as a Former President ,AzerTag state news agency reported.

Muradov briefed Abdullah Gul on the activity of the International Centre, as well as its projects.

The ex-president stressed the importance of the Centre, praised establishing the Centre which brings together leading socio-political figures all over the world.

Gul said he would attend 3rd Global Shared Societies Forum, noting that such steps would serve to further deepening Azerbaijani-Turkish relations.
Nizami Ganjavi International Center with its head office in Azerbaijan's second largest city, Ganja, was established in September 2012 to increase awareness of the great works of Nizami Ganjavi.
The Center helps to return Nizami's masterpieces to the homeland, serves as a depository for Nizami's works, and further develops the values embodied in his works through community engagement.
Nizami Ganjavi, the 12th century greatest representative of the Eastern Renaissance, displayed the quintessence of world literature and philosophy in his immortal works via the aesthetic power of his art.
Ganjavi started his creative endeavors with lyric poems. Nizami's lyric works stand out for high professionalism, secular attitude to love and humanist thoughts about a man's destiny.
Related News