Azerbaijan's National Games on Chovgan for President Cup underway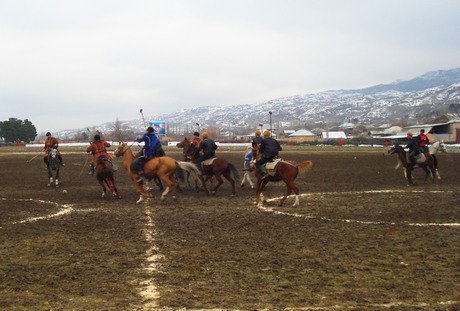 By Nazrin Gadimova
Azerbaijan's 8th National Games on Chovgan for the President Cup opened in Sheki-based Republican Equestrian Tourism Center on December 16, and will run till December 20.
The event, organized by Azerbaijan's Culture and Tourism Ministry and Sheki Executive Power, brought together 20 teams from different regions of Azerbaijan. Culture and Tourism Minister Abulfas Garayev, representatives of Sheki executive power and supporters of the participating teams attended the event.
Opening the event, Deputy Head of Sheki executive power Zarina Javadova said the games, which have been traditionally held since 2006, are aimed to preserve and develop the national horse riding games, including Chovgan - Azerbaijan's cultural heritage - as well as to promote equestrian tourism in the country.
Abulfas Garayev, in turn, said holding of the games is also associated with including of Chovgan into the List of Intangible Cultural Heritage in Need of Urgent Safeguarding, during the 8th Session of UNESCO's Intergovernmental Committee for the Safeguarding of the Intangible Cultural Heritage, which was held in Baku on December 2-7.
"This event is very important for all of us," Garayev said. "It is the first time an Azerbaijani national game was included to the List of Intangible Cultural Heritage in Need of Urgent Safeguarding. This means traditions created by Azerbaijani people have great importance for the mankind. UNESCO admits that these traditions are not only Azerbaijan's wealth, but of all mankind."
The minister highly appreciated activities of Azerbaijani President Ilham Aliyev and Azerbaijan's first lady and the President of the Heydar Aliyev Foundation, Mehriban Aliyeva in the field of culture and art, adding that opening of the Equestrian Tourism Center in Azerbaijan is a good example of this attention.
Then the audience was able to enjoy a game of teams from Sheki and Lachin. The game ended with the score 1:0 in favor of Sheki.
Chovgan is an ancient sporting team game. It can be called the ancestor of the modern polo game.
There are two teams, consisting of five to six players each plus one odd player. If there are five players in the team, three of them act as attackers and two as fullbacks. And if there are six players, three of them act as attackers, two as fullbacks and one as a halfback. Regardless of the composition of the team there is no goalkeeper. The ball can be stopped while in movement by any part of the player's body but strikes must be done only with a special club.
Duration of the game is 30 minutes (two 15-minute half-times). An amateur game lasts 20 minutes (10+10). The break-time is 10 minutes, after which the teams change the ends.
In case of a draw, extra-time follows (no more than 8 minutes) and penalty kicks may follow. If the score is still a draw, the winner is determined by drawing lots.