12 November 2013 16:38 (UTC+04:00)
1 636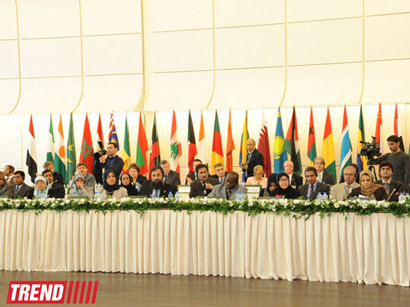 By Sabina Idayatova
Baku Declaration was adopted at the end of IV Ministerial Conference on Children of the Islamic Organization for Education, Science and Cultural Organization (ISESCO).
Titled "The Children of the Islamic World and Problems of Urbanization ", the Conference was held in Baku on November 11-12.
ISESCO Director General Abdulaziz bin Othman Altwaijri noted that the declaration envisages the provision of education and health services for children and the protection of their social rights.
Baku Declaration also includes a paragraph on the lives of children affected by the Nagorno-Karabakh conflict. This item reflects the occupation of Azerbaijani territories by Armenia and contains information about children affected by the conflict, he said.
The declaration also reflects issues that address the problems of homeless children in Islamic countries.
At the end of the conference, Altwaijri and Chairman of the State Committee for Family, Women and Children Affairs Hijran Huseynova expressed their gratitude for the support of Azerbaijani President Ilham Aliyev and also Mehriban Aliyeva, Azerbaijan's First Lady, President of Heydar Aliyev Foundation, and Goodwill Ambassador of UNESCO and ISESCO.
An appeal was addressed to President Aliyev on behalf of the conference participants.
Five resolutions were signed during the conference, covering 2014 to 2016.
According to the documents, activities aimed at protecting children's rights in Islamic countries will be conducted in the next two years. On the basis of the resolutions, relevant agreements were achieved on the protection of children who live in cities and villages. The documents also reflect other measures for reducing the impact of urbanization on children.
Speaking at the event, Huseynova noted that all the states that focus on children's rights will carry out joint efforts to overcome the differences between cities and villages.
"The results of the IV Conference of ISESCO member countries showed that the factors uniting people are more than those that separate them. It would be rational to use international experiences in this field. Fulfilling this task, we contribute to the world's development and future," Huseynova said.
The 4th Islamic Conference of Ministers in charge of Childhood of the Islamic Educational, Scientific and Cultural Organization (ISESCO) kicked off in Baku on November 8.
Some 220 delegates from 56 countries are attending the event themed "The Children of the Islamic World and Problems of Urbanization".
The conference is organized under an agreement signed between the country and the organization this May.
The Conference also hosted a meeting of experts on November 8-9.
Related News