President Aliyev: Sport in Azerbaijan has never been so powerful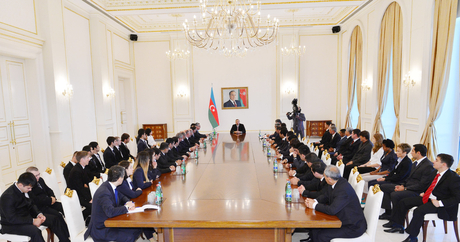 By Nigar Orujova
Azerbaijani President Ilham Aliyev received athletes who won medals at the third Islamic Solidarity Games in Palembang, Indonesia, as well as their coaches and sports experts, on October 4.
The President congratulated the athletes on their achievements, which included a total of 24 medals.
The national team of 54 athletes finished the Games seventh, with six gold, nine silver and nine bronze medals.
"This triumph proves that Azerbaijan is a sport country. All sport organizations in Azerbaijan serve one goal - to increase the country's successes," he said.
President Aliyev said Azerbaijan was contributing to strengthening Islamic solidarity in the world.
"In 2009, Baku was the capital of Islamic culture, and in 2018, this mission will be fulfilled by Nakhchivan," he said.
The President said the success of Azerbaijani athletes at the Islamic Solidarity Games was no coincidence.
"We claimed a total of 10 medals at the London Olympic Games last year, and gained 16 medals at the Universiade in Kazan this year," President Aliyev said.
According to the President, a well-considered policy is behind these victories.
"It's no coincidence that the conditions created for sportsmen are being improved in the country. There are 40 Olympic centers in Azerbaijan."
President Aliyev said Azerbaijan has successfully hosted a number of high-profile international tournaments. He also highlighted the preparations for the inaugural European Olympic Games to be held in Baku in 2015.
The President also said that in 2017 Baku will host the next Islamic Solidarity Games. He said the government of Azerbaijan would continue supporting the development of sports in the country.
The next, fourth Islamic Solidarity Games will be held in Azerbaijan from June 23 to July 2, 2017. The Games will bring together athletes from 57 countries and will be held under the slogan "Solidarity is our power".
President of the National Karate Federation Yashar Bashirov said the Azerbaijani karate fighters delivered a successful performance at the Islamic Solidarity Games.
Gold medal winner Aykhan Mamayev, who brought the first medal to the national team at the Games, said the Islamic Solidarity Games were a success for the Azerbaijani athletes.
Coach of the national taekwondo team Gunduz Abdullayev said the team claimed four medals at the Games.
Vice President of the National Olympic Committee Chingiz Huseynzade spoke about the Day of Azerbaijan organized in Palembang by "Baku 2017" Organizing Committee in connection with the next Islamic Solidarity Games due in Baku.
President Aliyev made closing remarks, saying "sport in Azerbaijan has never been so powerful".
"Azerbaijan managed to rank 30th among 200 counties in the Olympic rankings," the President said.
At the third Islamic Solidarity Games Azerbaijan was represented in nine disciplines, including athletics, weightlifting, karate, taekwondo, badminton, tennis, archery, swimming, and wushu. Azerbaijan won gold in athletics, karate and swimming.
The Islamic Solidarity Games is a multinational, multi-sport event involving the elite athletes of the Organization of the Islamic Cooperation (OIC), which is the second largest inter-governmental organization after the UN.