13 June 2013 17:40 (UTC+04:00)
738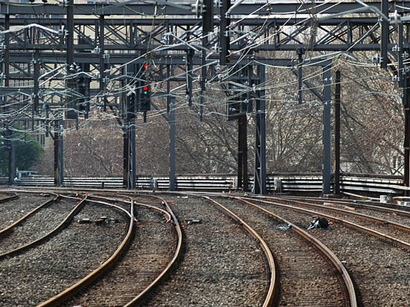 By Sabina Idayatova
The Baku-Tbilisi-Kars railway will be fully commissioned by late 2014, Deputy Head of the Azerbaijan Railways JSC Gurban Nasirov told reporters on June 13.
"Currently, the works under the project run on schedule and the construction work is expected to be fully completed by the end of 2013. During 2014, we will conduct start-up and adjustment operations, solve organizational and administrative issues," Nasirov said.
As for a slight delay in the timing of the project, Nasirov said that the delay is linked with the technical and administrative issues over the construction of the tunnel at the Georgian-Turkish border.
The Baku-Tbilisi-Kars railway is being built in accordance with an inter-governmental agreement reached by Azerbaijan, Georgia and Turkey. The railway will increase the flow of containers and other types of cargo from Asia to Europe. Its throughput capacity will peak at 17 million tons of cargo per year. Initially, the capacity will be 6.5 million tons of consignments and 1 million passengers.
Azerbaijan has allocated a loan worth $775 million for the construction of the Georgian section of the railway. Funding for the project from the State Oil Fund is carried out in accord with the 2007 presidential decree on taking measures within the Baku-Tbilisi-Kars railway project.
Related News