20 December 2011 11:51 (UTC+04:00)
720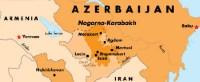 An Iranian lawmaker has claimed that if historical agreements are reviewed, a need will arise for annexing Azerbaijani territory to Iran, Fars news agency reported.
Nader Ghazipur, an MP from Orumieh, also claimed that anti-Iranian policy is still being pursued in neighboring Azerbaijan.
"If Azerbaijan, siding with the Zionists, becomes involved in a [military] attack on the Iranian people, ethnic Azerbaijani deputies will submit to parliament a bill that envisions a review of the [1828] Turkmenchay Treaty [which, along with the Gulustan treaty, led to the division of Azerbaijan between Iran and the Russian Empire]."
Ghazipur went on to say that the Azerbaijan Republic "gained independence just several years ago", noting that "when you look at documents, it turns out that these lands belong to Iran".
"So far, we have kept silent for the sake of the Muslim people of Azerbaijan," he added.
Category News