Tehran threatens Baku: they should heed the Ukraine lesson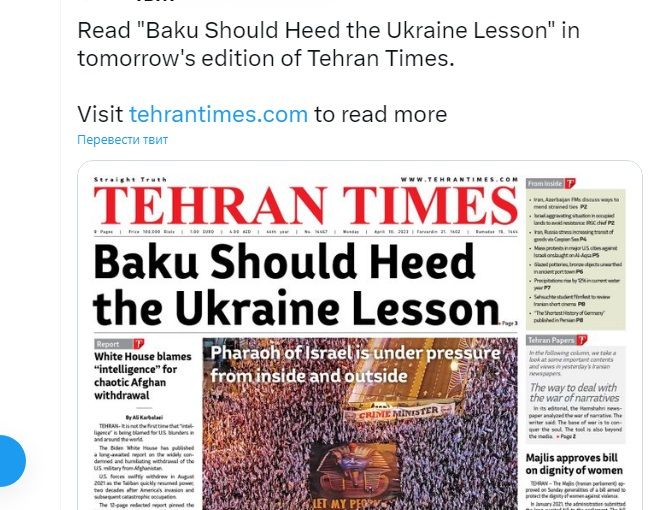 In recent days, many serious diplomatic issues have arisen against the backdrop of increasing tensions between Iran and Azerbaijan. The fact that Azerbaijan officially opened its first ever embassy in Tel Aviv at the end of last month and then Iran's diplomatic representatives were declared persona non grata and expelled from the country comes to the importance.
Unable to accept the realities, Tehran is literally shaking with anger and nervousness. It should be recalled that during the opening of the embassy in Israel, the Ministry of Foreign Affairs had addressed an insinuating message to Azerbaijan. However, this time, the Persian regime, which did not bear with the stricter measures with respect to expelled diplomats last week, sent a threatening message to Azerbaijan through the media.
Read "Baku Should Heed the Ukraine Lesson" in tomorrow's edition of Tehran Times.

Visit https://t.co/8hi3EBzDY8 to read more pic.twitter.com/rV3w7pR0N5

— Tehran Times (@TehranTimes79) April 9, 2023
As reported, Tehran Times, a clandestine pro-government Iran's online newspaper, has published an article about Azerbaijan with full of hatred and threat. The article criticizes the 'anti-Iran policy of the Azerbaijani government given the recent terror attack on its embassy in Tehran. It is interesting that in the article Iran directly accuses Azerbaijan without discussing its position.
"Over the last few weeks, Azerbaijani authorities have initiated a concerted campaign against Iran at the media and diplomatic levels. Azerbaijani media outlets are now disseminating slanted reports against Iran almost on a daily basis with the Baku officials providing them with the stuff they need.
Azerbaijan accused Iran of recruiting spies, supporting terrorist groups, and siding with Armenia among other things. Recently, Azerbaijan conducted a purge among Azerbaijani clerics and religious people. Also, it declared four Iranian embassy staff as persona non grata in a move that further escalated tensions between the two sides," the article reads.
In addition, despite all available evidences, Iran shamelessly threatened Azerbaijan for its dirty deeds. In the article, the author Sadeq Feredonabadi allegedly threatened Azerbaijan with what happened to Ukraine as a result of Russia's occupation.
"Pundits believe that the Republic of Azerbaijan needs to learn from the lessons of the Ukraine war, which indicated that the West has forsaken its promises of support for its allies."
However, with such an article, Iran reveals its true inner face of its aggressive tendencies. Tehran and its terrorist allies forget that Azerbaijan tested how to deal with the occupying states on every field.
---
Follow us on Twitter @AzerNewsAz