17 April 2015 16:30 (UTC+04:00)
2 467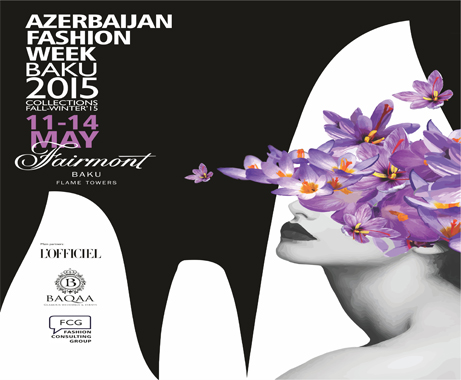 Azerbaijan Fashion Week will celebrate its first season in an iconic Fairmont Baku, Flame Tower on May 11-14, 2015.
Set over four days, schedule is filled with shows, presentations, showrooms, events and parties from the ascending names in Azerbaijani as well as International fashion industry.
The main purpose of the Fashion Week is to highlight the growing fashion industry in Azerbaijan and create the opportunity for the talented designers to showcase their potential. Along with the local designers there will be the designers from the adjoining countries including Russia, Georgia, Ukraine, Kazakhstan and the main fashion clusters as France and Italy.
The event will be attended by foreign experts of fashion industry, including buyers of the biggest fashion retail networks and boutiques, representatives of glossy international as well as local publications and international PR agencies.
The catwalk shows will be held at Nizami Genjevi Ballroom of Fairmont Baku Hotel and will be complemented by pop up stores and showrooms set over the second floor of the Hotels Business Centre. Special Master Classes and trainings for photographers and journalists will be delivered during the Fashion Week. As a part of the Azerbaijan Fashion Week program Dior will screen the documentary at the IMAX Park Сinema
For press enquiries please contact Sayad Ibrahimli, Fairmont Baku, Flame Towers 0099 412 565 4848
0099 412 565 4848| [email protected]
The first big international fashion project, featuring young local and international talents in an exclusive show focused on creating the opportunities for the talented designers. With a support of LUXE MEDIA Azerbaijan, the Fashion Week will be held twice in a year- May and November. The first event will take place in the iconic building and the new symbol of Baku city-Flame Towers
Every season, Azerbaijan Fashion Week will be attended by foreign experts of fashion-industry, including buyers of the biggest fashion-retail networks and fashion boutiques, representatives of glossy local as well as international publications and PR agencies.
On the highest part of the city of Baku, Azerbaijan's vibrant capital lies Fairmont Baku, located in the northern tower of the three comprising the Flame Towers complex. Designed by HOK International in the shape and essence of a flame - an apt symbol for this historic "land of fire"- the building is one of the most extraordinary and innovative constructions of modern times and is itself the tallest building in Azerbaijan.
The 36-storey Fairmont Baku, Flame Towers features 318 rooms suites and apartments, over 2,500 square metres of multi-use meeting space, a 3,500 square metre spa facility - ESPA at Fairmont Baku, located over two floors - and several restaurants, bars and lounges. With breathtaking views over Baku, the Caspian Sea and the UNESCO World Heritage site of the ancient Inner City, Fairmont Baku Flame Towers is swiftly becoming the place to stay and be seen.
Category News