Nakhchivan carpets as samples of decorative applied arts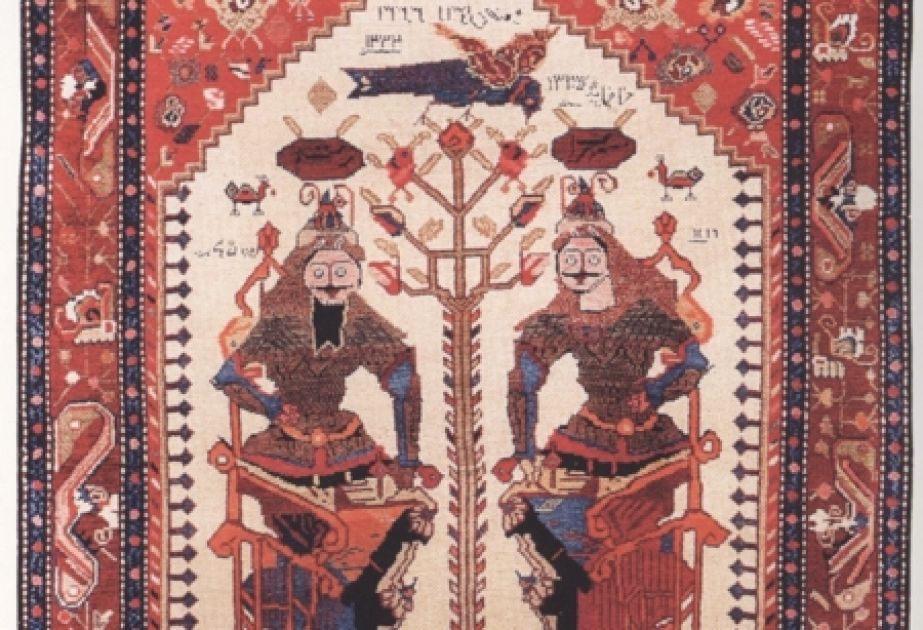 By Susanbar Aghamaliyeva
Carpet weaving is one of the ancient decorative applied works of art of Azerbaijan. This kind of art, loved by the Azerbaijani people, was passed down from generation to generation with great care for many centuries. In order to supply their comforts the people developed their primitive felting profession and later the people began to weave different designs of colorful wool on the felt.
Over the millennium felting had been promoted in home affairs and different types of carpets, of which, bast mat, palaz, kilim, sumakh, varni, shadda, zilli, chechim, and rugs appeared. In Azerbaijan, carpet weaving was divided into Guba-Shirvan, Ganja-Gazakh, and Nakhchivan- Tabriz groups and promoted. But what a pity the Nakhchivan carpet weaving tradition, later on, was forgotten, and carper products weaved in Nakhchivan were included in the history by the name of the Tabriz carpet weaving schooling and surely spread all over the world.
Investigations show that when speaking about carpet weaving schooling one must consider that there is a lot of alikeness between Tabriz and Nakhchivan weaving schooling. Nakhchivani carpets differ from Tabriz carpets for certain technical principles. They are primitive silhouette sketches, the thickness of beam and argach threads, the thickness of noose, having mythological lines on.
We see these descriptions on the monuments, in the architectural examples, on grave tombs and other samples of art Usif ibn Kuseyirarchitecturaltomb, Momuna khatun, about the XII century, Gulustan monument of the XIII century and Karabaglar tomb of multifaceted about the XIII-XIV centuries are individually carpet designs are appeared of unequal geometric synthesis. Foreign travelers in the Middle Ages coming to Nakhchivan, also merchants and other people, had taken the expensive and antique carpets of Nakhchivan to foreign countries and put them on sale as works of art belonging to other nations.
Today in the museums where the pearls of worldwide fame, the world civilization cultural samples are kept: the Louvre (Paris), Vatican (Rome), Victoria and Albert (London), Metropolitan (New York), Hermitage (St.Petersburg), Krakova (Poland), Topkapi (Istanbul) and other popular museums, in the collections of different people, together with Tabriz, Ganja, Gazakh, Guba, Shirvan, Karabakh carpets also very ancients Nakhchivani carpets are kept.
A carpet, called Ovchulug among Nakhchivan carpets, is very distinguished. This carpet admires the people for its originality and completeness, human and animal also ram descriptions on it. Symbolic details included in the carpet thickness threads, lack of noose, and geometric designs over it remind us of our forefathers who were busy with hunting and predicting the centuries-long history of Nakhchivan carpet weaving schooling. Carpets about hunting also belong to Tabriz's carpet weaving schooling.
But the hunting motifs of Nakhchivan carpets are a bit different from Tabriz carpets. Hunting motifs are reflected fully differently in Tabriz carpets. Nakhchivan carpets are divided into two types with six kesh sorts. They are "Irigul", "Firizayi", "Khankesni', "Khankarvan", "Dalali", "Gushlu". The other characteristic features of Nakhchivan carpets are the length of the nooses, (10-12 mm), the thinness of the noose thickness (1m2 90-160,000 nooses), the thickness of the thread flowers being big and the concreteness of geometric designs.
Nakhchivan carpets are mainly woven of spring-shorn wool. Because spring wool is of long fibers and is very suitable for spinning. One of the advantages of Nakhchivan carpets is that the carpets weaved here were used of very qualified silken threads of Ordubad. Such carpets were bought by travelers, merchants, and army leaders of the "Silk Way '' very costly and put on sale in different world markets more expensive. These carpets simply were known as "Islam" carpets as they didn't have great importance for the people who bought them, where they had been woven.
So the names of Nakhchivan carpets were known as Tabriz, Ardabil, and Khorasan carpets. Today the very famous "Nakhchivan" carpet which has incarnations in other regions of Azerbaijan exhibited in the history museum of Iravan under the "Ijevan" carpet of Armenians to the world audience. Today dozens of Nakhchivan carpets are exhibited in the Nakhchivan State Carpet Museum, Nakhchivan State History Museum, and other tens of museums.
Nakhchivan carpets as well as Azerbaijan carpets are divided into piled and unpiled for preparation technology. The unpiled carpets are very ancient compared to piled carpets, different palaz, jejim, carpet, shadda, varni, zilli, sumag for their characteristic design and picturesque. Piled carpets rich with multi-compositional lines and rich ornaments motifs differ especially. Their color palette is fitting to all colors of the rainbow.
Names of carpets mainly link with the places of production. Carpet weaving history is a very century long in Nakhchivan and at present, this history is going on and carpet weaving traditions are continued in different parts of Nakhchivan differently.
There is not a single village in Nakhchivan not to be busy with any form of carpet weaving. The carpet weaving trade in Nakhchivan is alive today and will be alive in the future as well. Because there is great state care for this national work of art. The presidential decree signed by Ilham Aliyev, president of the Azerbaijan Republic on March 6, 2007, is a vivid state care for carpet weaving, and to the carpet museums which today defend and keep them.
---
Follow us on Twitter @AzerNewsAz