9 December 2014 10:25 (UTC+04:00)
1 432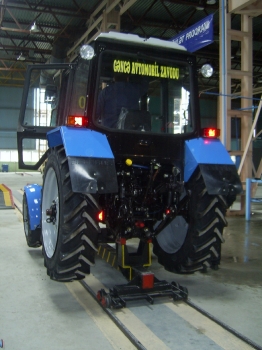 By Aynur Jafarova
Since the beginning of its operation in December 2004, Ganja Automobile Plant, located in Azerbaijan's second largest city, has produced 5,431 tractors of Belarus model, the plant said last week.
Some 4,677 tractors produced by the plant were sold on the basis of the state order of the Agroleasing Joint Stock Company and the remaining 754 to the farmers and entrepreneurs.
So far, the plant carried out the assembly of 2,212 large-capacity cars of MAZ model.
Also, the plant produced 138 tractor trailers and 3,160 units of hanging equipments in the reported period.
Ganja Automobile Plant is engaged in the assembling of Minsk tractors and trucks.
Currently, Ganja Automobile Plant is assembling 6-7 tractors, 3 MAZ automobiles and other machineries per day.
The plant also produces tractor trailers, communal machinery, and snow removal equipment. The assembly of communal machinery is conducted as part of an agreement signed with the German Haller Company.
Currently, the machinery produced and assembled in the plant is sold in the domestic market. Azerbaijan plans to export its goods to the foreign markets in the future. After the expansion of sale markets, the plant will increase its production.
Related News