9 September 2014 16:35 (UTC+04:00)
1 246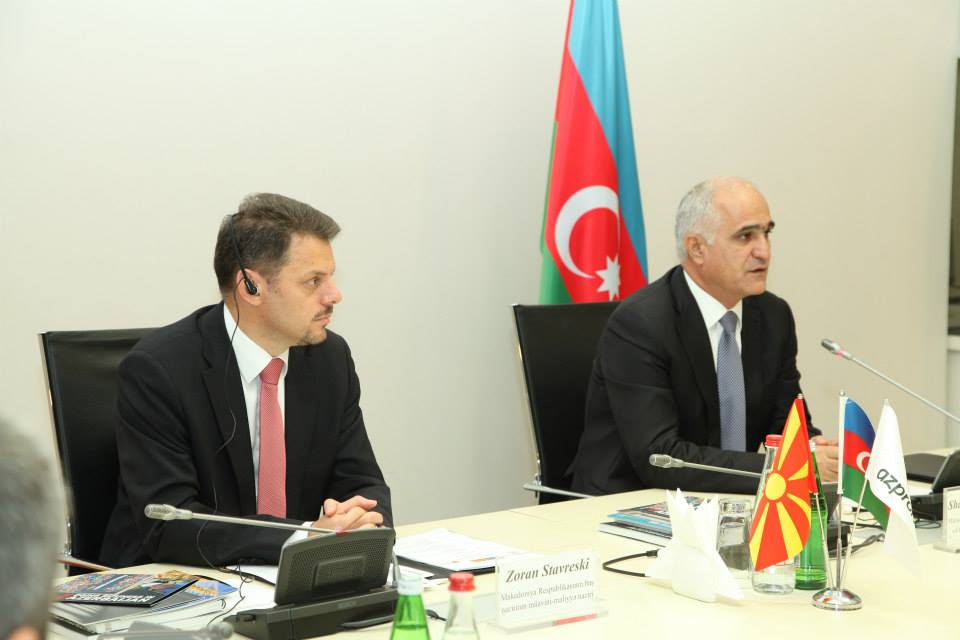 By Aynur Jafarova
There are appropriate grounds for further development of relations between Azerbaijan and Macedonia in trade and investment fields, Azerbaijani Economy and Industry Minister Shahin Mustafayev said at a joint Azerbaijan-Macedonia business forum held in Baku on September 9.
He noted relations between the two countries are developing successfully, particularly in political field.
"Despite the fact that the two countries have signed two agreements on avoidance of double taxation and investment promotion and set up an appropriate legal framework, the indicators of cooperation between Azerbaijan and Macedonia don't correspond to the potential of the two countries," the minister added.
Mustafayev also urged Azerbaijani and Macedonian businessmen to mutually invest in the economies of the two countries.
Macedonian Vice-Prime Minister and Finance Minister Zoran Stavreski, for his part, said Azerbaijan can get an access to the European markets via Macedonia, and Macedonia-to the Asian markets via Azerbaijan.
"Azerbaijan and Macedonia have a stable political and macroeconomic situation. This is a good opportunity to create effective trade and investment ties between the two countries. The two countries enjoy good capacities to develop these sectors, which continues to grow," he noted.
Macedonia interested in TAP
Stavreski later told journalists that Macedonia is interested in joining the Trans-Adriatic pipeline (TAP) as a partner.
"Once the project is ready, we will express our intention to participate in it as a partner and will hold discussions," he noted.
The Shah Deniz field, one of the world's largest gas-condensate fields, was discovered in 1999. Its reserves are estimated at 1.2 trillion cubic meters of gas. Overall, the field has proven to be a secure and reliable supplier of gas to Azerbaijan, Georgia, Turkey, and Europe.
The gas which will be produced at the second stage of Azerbaijan's Shah Deniz field development will be the main source of the Southern Gas Corridor, which envisages the transportation of the Caspian gas to European markets.
The Shah Deniz consortium announced the selection of TAP as the main route for transporting its gas to Europe in late June. Another pipeline which was vying for Azerbaijan's gas transportation to Europe was Nabucco West.
Azerbaijan agreed to sell over 10 billion cubic meters of natural gas a year from the second phase of its Shah Deniz development to nine companies in the European Union in September 2013.
The contracts were signed for 25 years between SOCAR and the European utilities, including Axpo Trading AG, Bulgargaz EAD, Depa, Gas Natural Fenosa, Hera Trading Srl, Shell Energy Europe, Enel SpA, E.ON SE, and GDF Suez SA.
The initial capacity of TAP will amount to 10 billion cubic meters per annum with the possibility of expanding to 20 billion cubic meters per annum. The TAP's construction project is planned to start in 2015.
Related News