Azerbaijan introduces subsidized housing system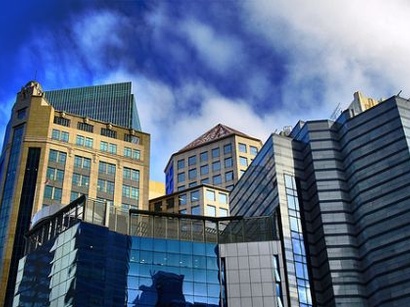 By Nigar Abbasova
Azerbaijan has introduced a new system of subsidized housing, which is innovative for the real estate market of the country.
The creation of the system is envisaged in the rules of granting subsidized apartments, which are at disposal of the MIDA LLC (which acts under the State Housing Construction Agency) to the citizens of the country. The rules have already been approved by President Ilham Aliyev.
"Subsidized housing" system, which will be created at the E-government portal, will be available since May 2017. The system will provide all necessary information about requirements applied for acquisition of apartments on easy terms.
Subsidized housing is expected to become the best solution for the citizens with low or moderate incomes. Additionally, after this process gets a massive scale, it will have a positive impact on the sectors of construction and production of building materials, eventually contributing to our overall industrial potential.
The apartment may be acquired by means of a mortgage loan, at customer's own expenses or by means of credits borrowed from credit organizations. Under the approved rules the Azerbaijan Mortgage Fund and its authorized banks (AG Bank, AzerTurk bank, Bank Avrasiya, Bank BTB, Xalq Bank, Kapital Bank, NBC Bank, Pasha Bank), will act as MIDA agents, while mortgage loans for the purchase of subsidized apartments from MIDA will be given at the expense of the AMF. The sum of the mortgage loan issued by the agent-bank should cover some 90 percent of the total cost of the apartment, should the customer does not apply for getting the sum covering less than 90 percent. The subsidized cost of housing, which will be approved by the MIDA Supervisory Board, should be less than the average market value. Apartments are given to owners should be fully renovated and equipped with kitchen furniture.
The territory for the first campus of such apartments has already been determined.
Economy expert Vugar Bayramov said that the apartments, to be built to improve living conditions of citizens, will be constructed in the area of 11.6 hectares, which is located along the Outer Ring Road, in Yasamal district of Baku city. Nearly 2,000 apartments will be built in the campus.
Bayramov noted that 1, 2 and 3 room apartments will be constructed in such buildings, while the monthly payment for 3-room apartments is expected to stand at the level less than 300 manats ($176.1). The total area of 3-room apartments will stand at nearly 70.2 square meters, while two-room apartments will have an area of 45 square meters. He went on saying that such houses will also be constructed in other cities and regions of the country.
The areas will be located in environmentally friendly, healthy and convenient parts of the city. Moreover, they are planned to be provided with all necessary social infrastructure (schools, kindergartens), as well as amenities and service facilities to ensure the provision of needs to citizens.
--
Nigar Abbasova is AzerNews' staff journalist, follow her on Twitter: @nigyar_abbasova
Follow us on Twitter @AzerNewsAz