2 June 2014 08:30 (UTC+04:00)
5 264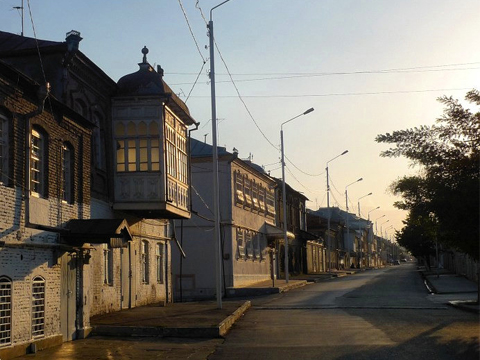 By Nigar Orujova
Azerbaijan, the country of tolerance, has one more specific place to visit.
Located 165 km northwest of Baku, Krasnaya Sloboda (Red village) is believed to be a unique all-Jewish city outside Israel.
Krasnaya Sloboda, inhabited with about 3,000 people, is located on the northern bank of the Kudiyal River, close to no less amazing settlement of Khinalig.
Here, you can take a breath of fresh air of Quba, enjoy the high ridges of the Shakhdag Mountain, quiet and peaceful Kudiyal River, and Tyangya Alty Waterfall to the full, and taste the spring water of Gizbenovshi.
This Jewish settlement in Quba has been inhabited by Jews since the 13th century. In 1742, the Khan of Quba gave the Jews, who were being persecuted by Islamic fundamentalists, permission to settle opposite his town.
Thus, a settlement of a large numbers of Jewish citizens was organized without fear of discrimination, retribution, or clashes with neighboring towns and states.
The flourishing community of 18,000 people became known as Yevreskaya Sloboda or Jewish settlement, but was renamed as Krasnaya Sloboda when the Bolsheviks came to power in the 20th century.
The town experienced many hardships during the Soviet time. The communists closed eleven synagogues and exiled rabbis to Siberia. However, Jews were shielded here from the horrors of Nazi-occupied Europe at the outset of World War II.
Today, seven synagogues have been preserved. They are all built of bricks, and the larger ones are decorated with onion domes.
Red roofs, sculpted panels of beige limestone, and rocky cliffs are the distinctive features of the settlement.
The main peculiarity of Krasnaya Sloboda is that it is populated almost entirely by Mountain Jews.
Azerbaijan's Community of Mountain Jews is one of the largest of the three Jewish communities of the Caucasus, going back to the Jews of ancient Persia who are believed to have settled in the region 1,000 years ago. They speak Juhuri, a mixture of Hebrew and Farsi.
Although life in the town is completely safe, it is little opportunities to find work here, something that increased emigration to Azerbaijani big cities and abroad to Israel, Europe, or North America. Many famous doctors, prominent businessmen, lawyers, and philanthropists are native Mountain Jews living around the world now.
Therefore, many of the beautiful buildings are abandoned or in disrepair.
Almost all the houses have a large shining Star of David; that is why the village is also called Caucasian Yerushalayim or the Jerusalem of the Caucasus.
Bearing in mind the uniqueness of their town, the young population of Krasnaya Sloboda intend to stay in their native land and protect their identity.
Related News