13 September 2017 13:40 (UTC+04:00)
1 658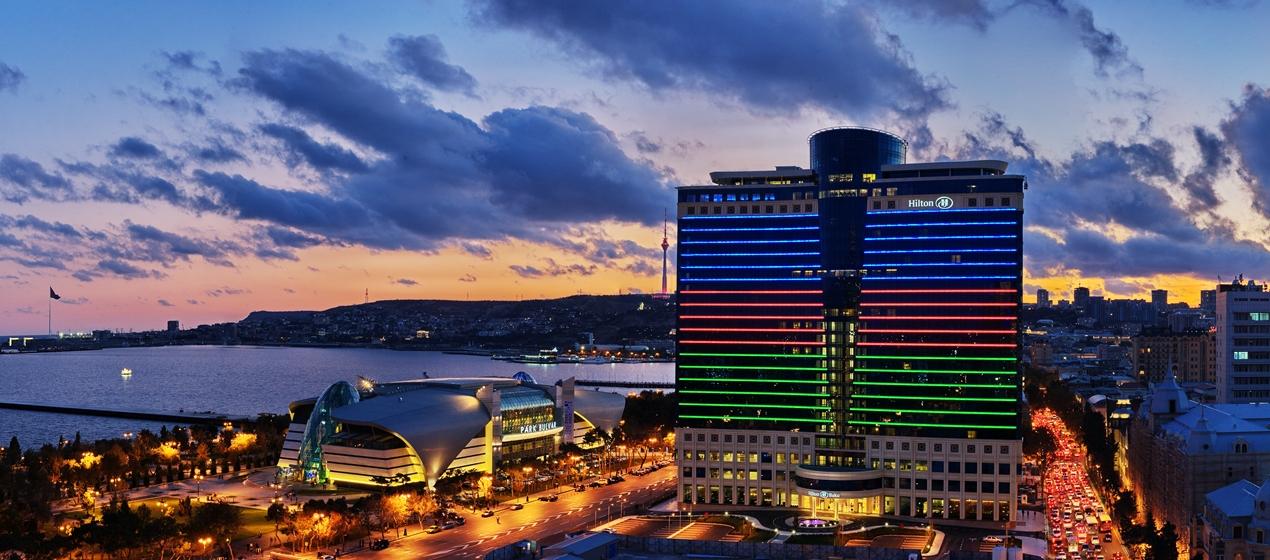 By Amina Nazarli
Azerbaijan's tourism industry has recorded a large increase since early months of 2017 thanks to the growing tourist flow to the country. Only in January-May, some 956,000 tourists arrived in the country, while last year the figure for this period was 768,000.
Incomes of hotels and hotel-type establishments in Azerbaijan amounted to 136.6 million manat ($80 million) in the 1H 2017, which is 37.8 percent more than the same period last year.
Some 68.8 percent of revenues were obtained from the accommodation itself, 21.4 percent from the sale of beverages and food products, and 9.8 percent from other services.
Roughly 97 million manats ($57 million) (or 71 percent of revenue) was obtained from the provision of services to foreigners.
The country can accommodate about 40,000 tourists in its 575 hotels, which include a series of luxury hotels – Excelsior, Hilton, Four Seasons, Fairmont, JW Marriott – as well as several budget hotels for cost-conscious travelers. Moreover, 25 hostels and 92 apartments for tourists operate in Baku.
Hotels are the base of tourism, even if they are not always the most popular form of accommodation. However, many who travel to unknown places prefer hotels because of their safety and amenities. Nevertheless, rent of private apartments is gaining popularity recently and for some this is the best way to spend vacation in Azerbaijan.
In January-June 2017, as many as 602,000 people (68.4 percent of them foreigners) rented rooms in hotel and hotel-type facilities in Azerbaijan, another 1,081 million people (65.9 percent foreigners) stayed overnight.
Bulk of tourists staying in hotels for the night fell to the share of the capital. Thus, 58.2 percent of the total number of tourists stayed at hotels and hotel-type establishments in Baku, 9.3 percent in Gabala, 5.8 percent in Gusar, 4.1 percent in Nakhchivan Autonomous Republic, 2.1 percent in Guba, 1.5 percent in Shamakhi, 1.4 percent in Khachmaz and 17.6 percent in other cities and regions.
The cost of providing services amounted to 105.2 million manats ($62.3 million), of which 32.3 percent are used to pay salaries to hotel employees, 14.9 percent to purchase products used in the preparation of beverages and food, 8 percent for fuel and electricity, 7.9 percent for all types of social insurance, 7.3 percent for depreciation expenses, and 29.6 percent for other payments.
The number of hotel employees during this year increased by 11.8 percent to 9,770 people. The average monthly salary for each employee of hotels and hotel-type establishments was 579.3 manats in the first half of the year.
Tourism in Azerbaijan is an industry that generates over 2 million arrivals per year, and is one of the most promising economic sectors. The sector's contribution to the national GDP is at the level of 4.5 percent.
The growth of tourism in Azerbaijan and increasing number of tourists has necessitated construction of more hotels in the country. Experts say greater attention should be paid to the construction of three-star hotels in Azerbaijan.
Muzaffar Agakarimov, the adviser of the Chairman of Azerbaijani Tourism Association AzTA previously said that availability of 575 hotels in the country is very small and it is necessary to increase the number of hotels of different types and levels to more than 1,000.
--
Amina Nazarli is AzerNews' staff journalist, follow her on Twitter: @amina_nazarli
Follow us on Twitter @AzerNewsAz
Category News