Race of high-speed sports cars starting at Heydar Aliyev Center headed to Lankaran [PHOTOS]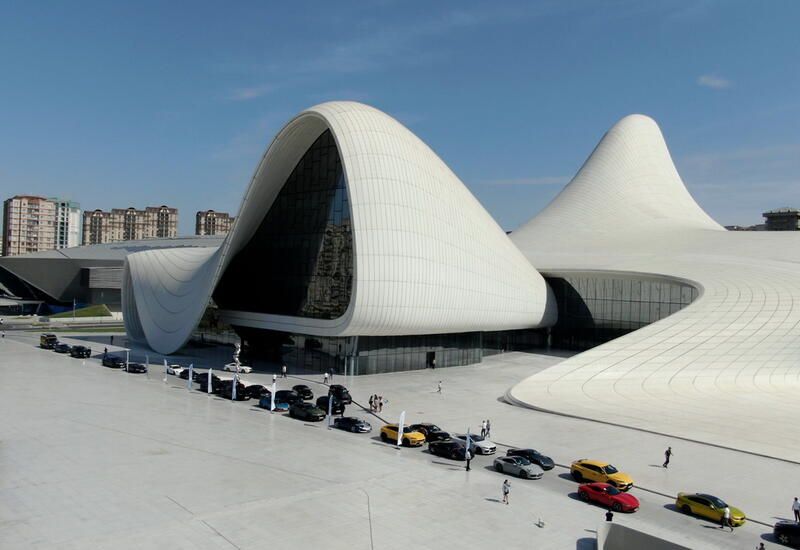 On June 10, the Azerbaijan Automobile Federation implemented another project to popularize motorsport in the land of fire. A rally of high-speed sports cars from Baku to Lankaran started on the highway.
According to Azernews, the Baku-Lankaran rally started in the morning in front of the Heydar Aliyev Center. Sports cars registered for this event in the Automobile Federation took part in the run. Also, high-speed sports cars presented by car dealers - sponsors of the project took part in the run. It should be noted that the main sponsor of the project is Nazar Holdings, the sponsors are Lamborghini Baku, Ferrari Baku, Lankaran Springs, Premium Bank, CARARAH Motors, GreenCar.
Residents of the capital and guests of our city could watch high-speed sports cars, which aroused great interest, especially among young people, from the place where the race began - in front of the Heydar Aliyev Center. Sports cars passed through the attractive places of Baku and headed to Lankaran.
The Federation has prepared a special instructive and entertainment program for the participants in Lankaran.
The participants of the run also visited the "European town" organized in the park named after Heydar Aliyev in the town of Lankaran. Here the guests had the opportunity to get acquainted with the countries of the European Union, their history, culture and traditions.
Also in Lankaran, a drift show was held with the participation of Air Force pilots. The drift show gave motorists a feeling of adrenaline.
Then an entertainment program prepared by the Azerbaijan Automobile Federation for the participants of the run was presented.
Participants selected in the nominations "The most liked car" and "The most interesting style of clothing" were awarded.
The race participants took part in a quiz and answered questions about cars. The prizes were awarded to the winners by the Automobile Federation and sponsors of the event.
As part of the rally to Lankaran, employees of the Automobile Federation also visited the Lankaran city mixed-type orphanage, delighted children of different age groups with gifts, and organized lunch for them. Various necessary household items were also provided by the Federation to the Orphanage.
The Federation also sent gifts to all families of martyrs and veterans of the city of Lankaran, a total of 130 families.
It should be noted that the main activities of the Automobile Federation include ensuring road safety in our country, developing motorsport and car tourism, promoting and organizing freedom of movement by safe, environmentally friendly modes of transport, supporting the development of the automotive industry in Azerbaijan, organizing various types of car racing, training professional pilots and their participation in international competitions.
In recent years, the Federation has been implementing a number of projects in the direction of the development of motorsport in our country. Among them are projects involving Offroad cars, including youth karting competitions, V1 Challenge car races and others.
---
Follow us on Twitter @AzerNewsAz