Line C of Central Asia-China gas pipeline commissioned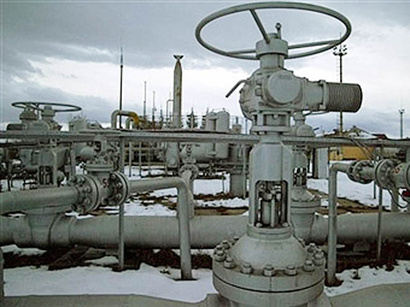 By Aynur Jafarova
The Line C of the Central Asia-China gas pipeline, which is primarily designed to deliver the natural gas from Turkmenistan, has been commissioned.
The news was announced by the Chinese National Petroleum Corporation (CNPC), Trend Agency reported.
The total length of the Line C, which is laid parallel to the Line A and Line B, reaches 1,830 kilometers.
The design capacity of the Line C is 25 billion cubic meters of gas per year. Some 10 billion cubic meters of this volume will be delivered from Turkmenistan, 10 billion from Uzbekistan and five billion from Kazakhstan.
The Line C starts on the Turkmen-Uzbek border, runs through Kazakhstan and ends in the Xinjiang Uyghur Autonomous Region of China and further connects to China's West-East gas pipeline.
The construction of the Line C began in September 2012.
Currently, up to seven billion cubic meters of gas is transported via the Line C per year and it is possible to increase this volume to 25 billion cubic meters per year by 2015.
The total capacity of the Central Asia-China gas pipeline will increase to 55 billion cubic meters of gas per year by late 2015.
The A and B lines of the pipeline were commissioned in late 2009 and in October, 2010, respectively.
China, a major energy consumer, and Turkmenistan, a major energy producer, enjoy a natural advantage and huge potential in energy cooperation.
China is one of the key buyers of Turkmen gas, and intends to increase its annual purchases up to 65 billion cubic meters of gas.
Turkmenistan is one of the key players in the energy market of the resource-rich Caspian region. The Central Asian state has the world's fourth largest natural gas reserves after Russia, Iran, and Qatar, and produces about 70-80 billion cubic meters of gas per year.
As part of its energy strategy, Turkmenistan plans to increase the production volume and export of natural gas, and diversify the routes of supply to major world markets.
Given the ever-increasing potential of the two countries, as well as the areas of mutual interest, Turkmenistan and China have all the conditions to increase the volume of bilateral trade to $20 billion over the next five years.