UN Secretary-General was informed of Azerbaijan's anti-terrorist measures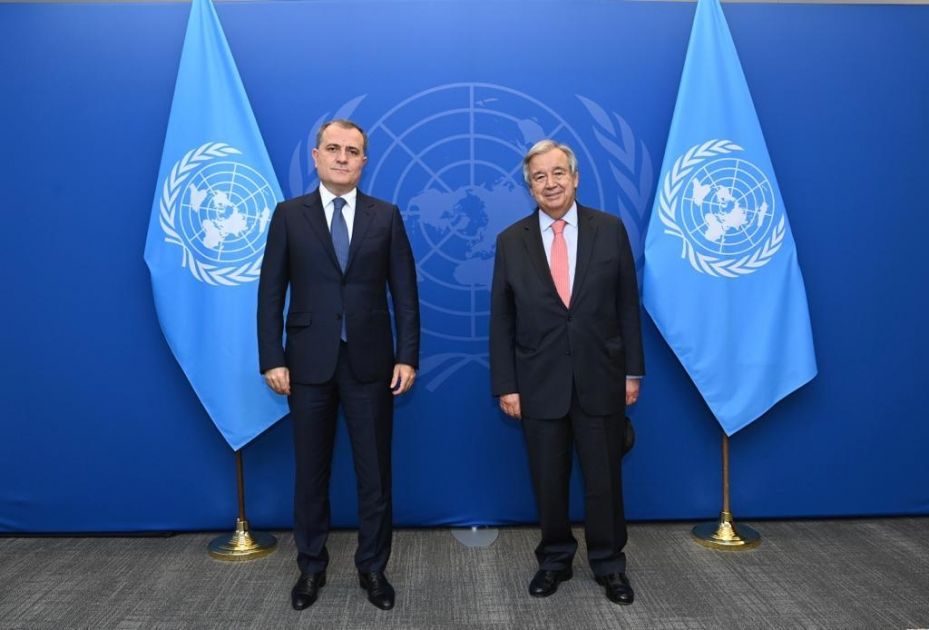 The Minister of Foreign Affairs of the Republic of Azerbaijan Jeyhun Bayramov met with the UN Secretary General Antonio Guterres within the framework of the high-level week of the 78th session of the UN General Assembly.
According to Azernews, the Ministry of Foreign Affairs, the current cooperation agenda between Azerbaijan and the UN, as well as the current situation in the region, were discussed at the meeting.
Foreign Minister Bayramov said that since our country became a member of the UN, it has been usefully cooperating with the Organization, including its specialized agencies, and that the activities of the UN in our country are important.
The Minister gave information about the current situation in the region, the normalization and peace agenda between Azerbaijan and Armenia, at the same time, he added that in the post-conflict period, Armenia continued its illegal presence in our territories during the occupation period by our country, contrary to the 4 resolutions of the UN Security Council. Besides, the minister informed about the local anti-terrorist measures held by the Azerbaijani Army that resulted in the termination of the presence of the illegal Armenian armed forces formations in Azerbaijan's Garabagh economic region.
It was emphasized that the mentioned measures will contribute to the peace process, including the reintegration of the local Armenian residents in the Karabakh region, in terms of removing the remnants of the 30-year occupation, including the removal of illegal armed forces that have been causing continuous provocations against peace and stability in the region.
In this regard, it was reported that a meeting between the Government of Azerbaijan and representatives of the Armenian residents was held in Yevlakh city, as well as that steps were taken to meet the needs of the residents and humanitarian aid was provided in accordance with the results of this meeting.
J. Bayramov informed the UN Secretary-General about the process of disarmament of the Armenian armed forces and presented the photos of the military equipment and ammunition confiscated during the last three days to the Secretary-General.
During the meeting, opinions were also exchanged on other issues of mutual interest.
---
Follow us on Twitter @AzerNewsAz