All of Türkiye's 85 million citizens will win on May 28, says Erdogan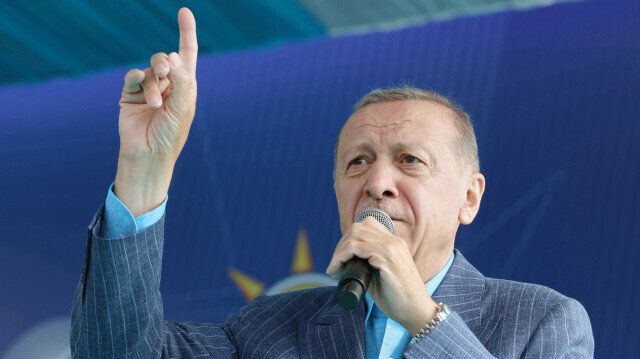 Türkiye's 85 million-strong citizens will be the winners in Sunday's presidential runoff, vowed President Recep Tayyip Erdogan on the eve of the election, Azernews reports, citing Yeni Shafak.
"All who have confidence in the national will, have a dream for our country and feel they belong to these lands will be a winner in the May 28 elections," Erdogan said at his last rally in Istanbul on Saturday ahead of the polls.
"Those who, despite all the provocations, do not cast a shadow over the polls, do not ignore the rule of law or legitimacy, and who believe in the changing power of civil politics will be counted as the victors in these elections no matter the results," he added.
Türkiye is heading to a runoff vote on Sunday to elect the president after no candidate reached the 50% threshold in the first round two weeks ago.
On May 14 Erdogan's People's Alliance won a majority in parliament, while the presidential race headed to a runoff as no candidate won a simple majority, or more than 50%. Erdogan, however, led with 49.52%.
In the runoff, Erdogan will face Kemal Kilicdaroglu, the leader of the main opposition Republican People's Party (CHP) and joint candidate for the six-party opposition Nation Alliance.
"We will win in such a way that all of Türkiye with its 85 million individuals will win. Our nation with all its colors will win, and our democracy, for which we paid a great price, will win.
"Regardless of which political party they fall in love with, all voters who show their will through legitimate means will win," Erdogan said.
Erdogan said he believes that people who voted for opposition parties on May 14 such as the CHP, Democracy and Progress Party (DEVA), Peoples' Democratic Party (HDP) and Good Party (IYI Party) will switch to the People's Alliance on Sunday.
"We will invite them too, they are the children of this nation. I hope we will walk together," he added.
---
Follow us on Twitter @AzerNewsAz