Kyrgyz President meets German Chancellor [PHOTO]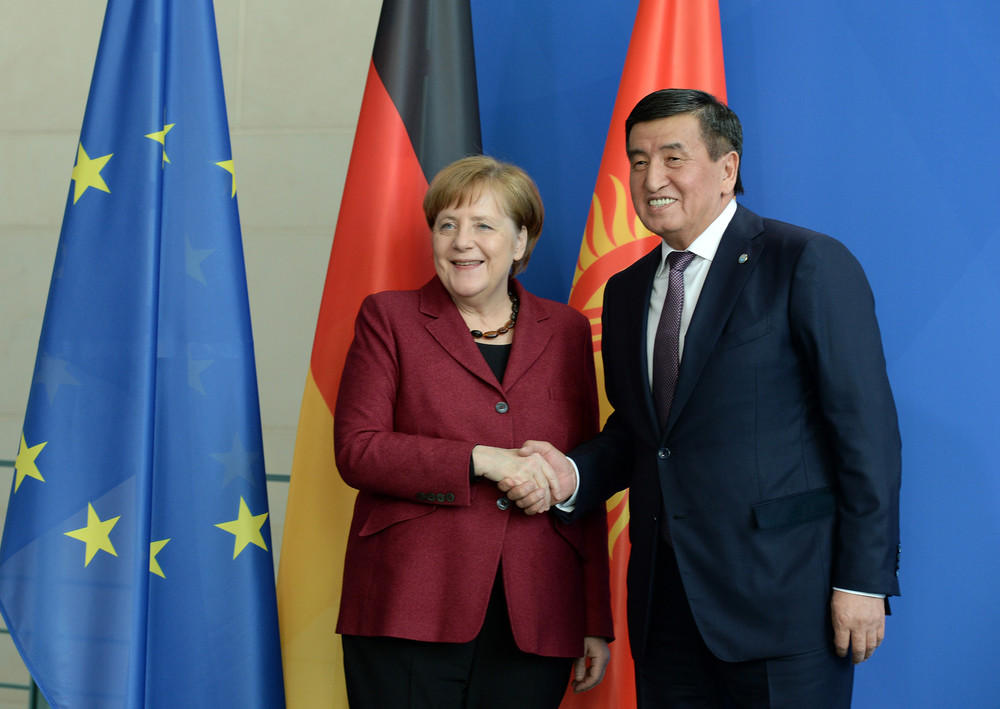 By Abdul Kerimkhanov
Kyrgyz President Sooronbay Jeenbekov has visited the Federal Republic of Germany on a two-day official visit.
During the official visit of the Kyrgyz President to Germany, a set of bilateral documents was signed aimed at strengthening cooperation in the field of diplomatic relations, economies and industry, agriculture and the agro-industrial complex, education, development of tourism and trade and economic relations as well as in the financial sphere.
Jeenbekov made a statement to the press at a meeting with the Federal Chancellor of Germany Angela Merkel in Berlin. He expressed gratitude to Angela Merkel for the invitation to visit Germany on an official visit.
"Today we plan to discuss topical issues of cooperation between our countries and outline plans for the future. In recent years there has been a significant increase in political contacts at the highest levels. The official visit of Federal Chancellor Angela Merkel to Kyrgyzstan in 2016 contributed to this," said the Kyrgyz President.
He noted that important political meetings were also held with German Federal President Frank-Walter Steinmeier and President of the Bundestag Wolfgang Schauble, with whom he held substantive and productive negotiations.
"They covered all areas of bilateral cooperation and were held in the spirit of mutual trust and understanding. Yesterday I met with the leadership of Bavaria in Munich. I spoke at the Hanns Seidel Foundation in detail about the development of Kyrgyzstan. We held a Kyrgyz-German business forum with the participation of representatives of the business environment of the two countries," the Kyrgyz president stressed.
He said contacts have been established to intensify economic relations: more than 10 documents were signed between the governments and departments of the two countries, as well as a number of contracts and memorandums between businessmen. The total amount reached more than 1 billion euros.
Jeenbekov also noted that promising areas of cooperation between Kyrgyzstan and Germany are the trade and economic spheres, hydropower, industry, development of a green economy, agriculture and tourism.
He added that for Kyrgyzstan, attracting German investments, creating favorable conditions for small and medium businesses and cooperation in agriculture is important.
"Today, Kyrgyzstan is on the path of active socio-political and socio-economic transformations. Our main goal is to build an economically developed rule-of-law state with parliamentary democracy. In general, we express satisfaction with the level of development of Kyrgyz-German relations. We consider it important to continue the current pace of cooperation with an emphasis on expanding trade and economic relations with Germany," said the head of state.
He stressed that the intensification of the Kyrgyz-German inter-parliamentary cooperation, further close cooperation in the cultural, humanitarian sphere and in the field of education and science are of great importance.
"I am sure that this direction will be a good investment in the future of Kyrgyzstan. Of course, the agenda includes issues of cooperation between Kyrgyzstan and the EU. The adoption of the new EU Strategy for Central Asia is expected in 2019," said Jeenbekov.
Angela Merkel, in turn, stated that there are economic ties between Kyrgyzstan and Germany, but they need to be deepened.
Addressing Jeenbekov, she noted that he arrived in Germany for the first time on an official visit as president, and that she was happy to welcome him.
"I was in Kyrgyzstan in 2016 and still remember what a beautiful country it is. You solve your problems - the establishment of parliamentary democracy, the treatment of natural resources, overcoming geostrategic challenges and multilateral cooperation. All these topics unite us," said Merkel.
The chancellor also noted that Germany aims to strengthen bilateral relations in the field of youth exchanges and education.
"There are already 25 education partners between our countries. More than 500 students study in Germany and in your delegation today there are representatives of the German minority. They act as a bridge that connects our countries. Today, there are 8,000 Germans living in Kyrgyzstan," she noted.
---
Abdul Kerimkhanov is AzerNews' staff journalist, follow him on Twitter: @AbdulKerim94
Follow us on Twitter @AzerNewsAz