7 September 2017 17:51 (UTC+04:00)
462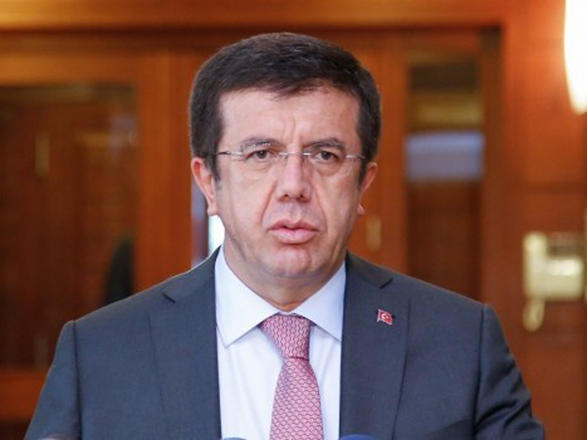 By Ali Mustafayev
Tensions between Turkey and Germany continue to heat up amid the harsh exchange between two NATO countries with deep economic and demographic ties.
The tensions came to a new head this week after the German authorities announced a will to veto the update of Turkey's Customs Union with the European Union.
Turkey is the only non-EU country which is in a Customs Union with the EU. The talks on updating EU-Turkey Customs Union started in Brussels on June 13.
Germany has no right to block a planned update of Turkey's customs union with the European Union, Turkish Economy Minister Nihat Zeybekci said on September 7, touching on a simmering row between Ankara and Berlin.
Zeybekci, talking to reporters in Ankara, said there were no problems in Turkey's accession negotiations with the EU and that the process continued.
"In spite of all German efforts, Turkey continues the work to join the Customs Union," he said.
German Chancellor Angela Merkel said earlier that she did not think it was appropriate to carry out further discussions with Ankara about the customs union.
Ties between Ankara and Berlin have been strained in the aftermath of last year's failed military coup. Germany has voiced concern that the Turkish authorities are using the coup as a pretext to quash dissent, while Ankara has accused Germany of anti-Turkish and anti-Muslim sentiment.
In mid August, Turkish President RecepTayyip Erdogan said German Chancellor Angela Merkel's Christian Democrats were enemies of Turkey and called on Turks in Germany to vote against major parties in next month's elections.
Turkey has arrested several German citizens over the last year on allegations of terrorist propaganda and links with the FETO terrorist organization. The German government demands the release of all German citizens.
Germany was Turkey's top export destination in 2016, having bought $14 billion worth of Turkish goods, according to the International Monetary Fund. The country was also the second-biggest source of imports to Turkey, at $21.5 billion, behind China, which exported $25.4 billion worth of goods to Turkey.
---
Follow us on Twitter @AzerNewsAz
Related News