SOCAR head on Star refinery's importance for Azerbaijani, Turkish economies' development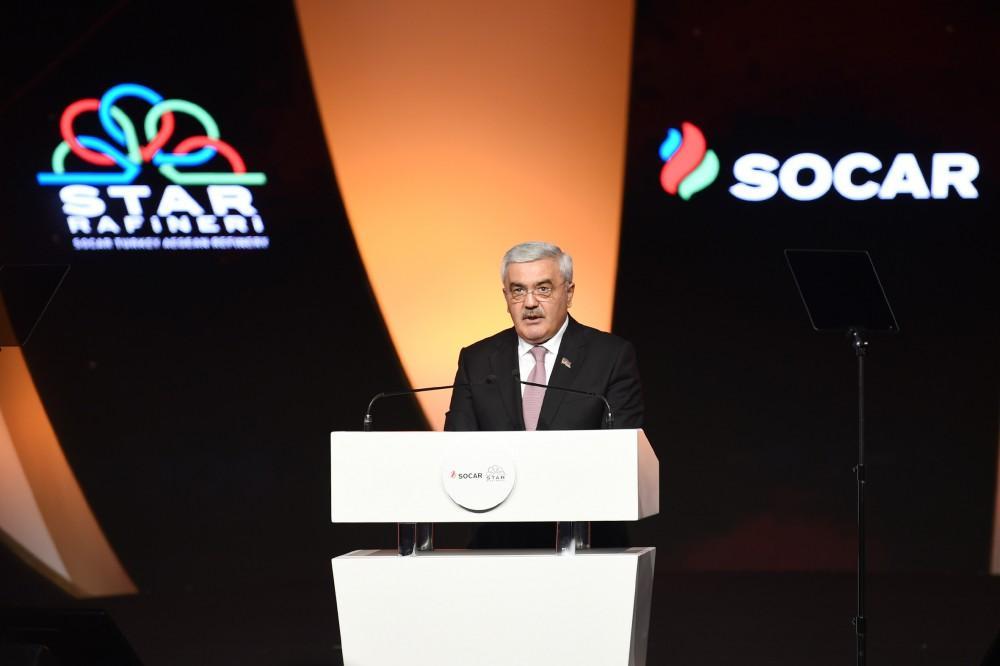 By Trend
Star refinery will make significant contribution to the development of the economies of Azerbaijan and Turkey, President of Azerbaijan's state oil company SOCAR Rovnag Abdullayev said Oct. 19 at the refinery's opening ceremony in Izmir, SOCAR said in a message.
"This day is historic for us," he said. "Star refinery, built and equipped with the most advanced technology, unites our petrochemical business with oil refining and is therefore of strategic importance to our company. The plant with annual processing capacity of 10 million tons of crude oil will significantly contribute to the development of Azerbaijani and Turkish economies."
An inauguration ceremony of the Star refinery of Azerbaijan's state oil company SOCAR took place in the city of Izmir, Turkey on Oct. 19.
The STAR refinery will produce naphtha, diesel with ultra-low sulfur content, aviation fuel, petroleum coke, liquefied gas and other products. The refinery will not produce gasoline and fuel oil.
The plant is planned to process oil of such grades as Azeri Light, Kerkuk and Urals.
The refinery's processing capacity will amount to 10 million tons per year.
The share distribution in the project is as follows: 60 percent of shares are owned by the Rafineri Holding (being in 100-percent possession of SOCAR Turkey Energy), which previously bought 18.5 percent of the participation interest of Turcas Petrol in the project, and 40 percent of shares are owned by SOCAR.
---
Follow us on Twitter @AzerNewsAz