10 February 2016 18:43 (UTC+04:00)
1 259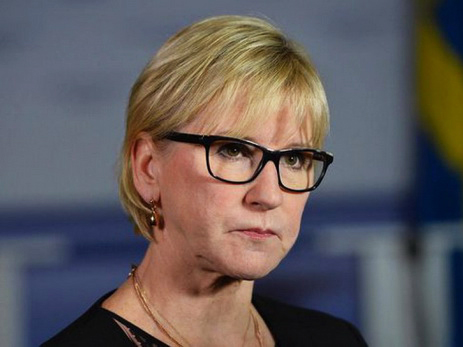 By Aynur Karimova
Sweden has offered to convene an enlarged meeting of the OSCE Minsk Group for settlement of the Armenia-Azerbaijan Nagorno-Karabakh conflict.
Swedish Foreign Minister Margot Wallstrom said at a joint press conference with his Azerbaijani counterpart Elmar Mammadyarov in Baku on February 10 that Stockholm can contribute to the settlement of the Nagorno-Karabakh conflict.
Mammadyarov discussed with visiting Wallstrom the settlement of the Nagorno-Karabakh conflict and the ways to de-escalate tension in the conflict region.
She said Sweden adheres to the political settlement of the Nagorno-Karabakh conflict and mediation of negotiations by the OSCE Minsk Group.
"The settlement of the Karabakh conflict is an important issue for Azerbaijan," she said. "I asked my Azerbaijani counterpart what role Sweden can play in the settlement of the conflict. We are ready to take part in this issue. It is necessary to adhere to the principles of non-use of force, inviolability of borders and self-determination of peoples. If there is a need for a meeting in a broader format for the settlement of the conflict, we, as members of the OSCE Minsk Group, are ready to take part at this meeting," she noted.
Wallstrom also offered to organize a meeting of women - representatives of the Azerbaijani and Armenian communities of Nagorno-Karabakh within the framework of confidence-building measures between the sides to the conflict.
She went on to add that her current visit should be seen as support for cooperation with Azerbaijan, both in the bilateral format and within the framework of cooperation with the EU.
Mammadyarov, in turn, said Azerbaijan's position on the Nagorno-Karabakh conflict is clear: updated Madrid principles are the base document.
"Changing internationally recognized borders of states By use of force is unacceptable," he emphasized.
For over two decades, Azerbaijan and Armenia have been locked in conflict which emerged over Armenia's territorial claims against its South Caucasus neighbor. Since a war in the early 1990s, Armenian armed forces have occupied 20 percent of Azerbaijan's territory, including Nagorno-Karabakh and seven surrounding regions.
The sides to the conflict are currently in talks based on the renewed Madrid principles, which envisage return of occupied territories surrounding Nagorno-Karabakh to Azerbaijani control, ensure the right of all internally displaced persons and refugees to return to their former places of residence, future determination of the final legal status of Nagorno-Karabakh and etc.
However, the peace talks mediated by the OSCE Minsk Group have been largely fruitless so far.
Touching upon the Azerbaijani-Swedish relations, Mammadyarov said Azerbaijan expects expansion of activity of the Swedish Embassy in Baku.
"Political relations between Azerbaijan and Sweden are at a good level," he said. "Azerbaijan expects expansion of activity of the Swedish Embassy in Baku, which is now represented by a diplomatic office."
Currently, the residence of the Swedish Embassy in Azerbaijan is located in Stockholm.
Commenting on Azerbaijan's participation at the Munich Security Conference, Mammadyarov said Azerbaijan will be represented at the highest level at this conference.
"Azerbaijan will take part in a panel on energy issues," he added.
A three-day Munich Security Conference will begin on February 12 in Germany. It is expected that the conference will be attended by heads of states and governments from over 30 countries, about 60 ministers, as well as politicians, scientists and heads of international organizations.
As part of a visit to Baku, Wallstrom concluded a convention for the avoidance of double taxation and the prevention of fiscal evasion with respect to taxes on income with Mammadyarov
The convention involves the avoidance of double taxation and the prevention of fiscal evasion.
Refugees
Sweden has expressed interest in studying Azerbaijan's experience in the field of resolving the problems of the refugees.
"Sweden has the highest per capita number of refugees in Europe," Wallstrom said on February 9 at a meeting with Ali Hasanov, Azerbaijan's deputy premier and chairman of the State Committee for Refugees and IDP affairs. "The majority of these refugees are children who do not have parents. Resolving their problems in education, healthcare and other areas creates certain difficulties for us. Therefore, Azerbaijan's experience in this field is very important for us."
Hasanov, for his part, noted that in the past 200 years as a result of complicated political processes taking place in the South Caucasus, Azerbaijanis forcefully displaced from their homes, suffered from ethnic cleansing and deportation policy.
"A ceasefire agreement reached between Azerbaijan and Armenia in 1994, paved the way for the development of our country. At the same time, Azerbaijan started to resolve the problems of refugees and internally displaced persons step by step. Today, we were able to provide proper home conditions for almost 250,000 refugees. We have a literacy rate of 100 percent, including refugees. Ten years ago, about 70 percent of the refugees were living in poverty. Currently, the poverty rate among the refugees is only 12 percent," Hasanov noted.
Today, Azerbaijan with a population of about 10 million is home to more than 1.2 million refugees and IDPs. Every 8th citizen in Azerbaijan is a refugee, which is one of the highest per capita number of refugees.
The Azerbaijanis who were displaced from their homes as result of the brutal war were forced to live in refugee camps, tents, in very difficult conditions. They also lost all of their properties. They became homeless, jobless and without any means for living. That was a real humanitarian catastrophe.
--
Aynur Karimova is AzerNews' staff journalist, follow her on Twitter: @Aynur_Karimova
Follow us on Twitter @AzerNewsAz
Related News