Defense minister: Azerbaijani army to prove its superiority over Armenia soon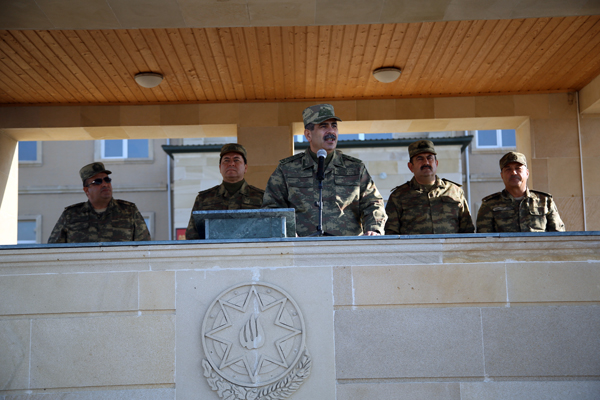 By Aynur Karimova
The Azerbaijani army will soon prove its superiority over Armenia, Azerbaijani Defense Minister Zakir Hasanov said on November 9.
Hasanov attended a National Flag Day celebration in one of the military units on the frontline, the ministry reported.
Colonel-General Zakir Hasanov met with members of the Armed Forces serving in the trenches on the frontline and highlighted orders from President Ilham Aliyev.
"The army is being rapidly developed, thanks to President Aliyev's attention and care," he said. "Some achievements were made in this area. As a result of measures conducted on the frontline, a large number of the enemy was killed, and they were destroyed psychologically. The enthusiasm of our servicemen frightens Armenia. Azerbaijani servicemen are ready to expel Armenian forces from our territories. We have prepared all possibilities for this."
The minister also stressed the necessity to do everything possible "to hasten the day when the occupied territories will be released and the flag of Azerbaijan will fly there."
The development of the military is under special focus in Azerbaijan, a country in which twenty percent of its internationally recognized territory has been under Armenian occupation for over 20 years. Azerbaijan remains in a state of war with Armenia.
Thanks to the state's care, today the Azerbaijani Army, which consists of the Air Force, Air Defense Forces, the Navy, and Land Forces, is one of the strongest, most highly-disciplined armies in the world, and the leader in the region.
The army is equipped with new, high-quality weapons made by domestic and foreign military-industrial systems. It is continually modernized, reconstructed, and equipped with the newest and strongest weaponry, as Azerbaijan's revenues increase.
Azerbaijan has purchased new weapons and ammunition from countries with which it has close cooperation in the military-technical field. Military equipment is purchased primarily from Turkey, Israel, Russia, the U.S., and other countries. Further, the country bought tanks from Russia, as part of agreements signed in 2011 and 2012.
The Azerbaijani army is supplied with modern weapons and technical equipment for maintaining a high level of combat capability. The army now possesses 120 mm portable mortars 2S12 "SANI", 220 mm heavy flamethrower systems ТОS-1А, 152 mm self-propelled howitzers "Msta-S", and 120 mm self-propelled artillery weapon 2S31 "Vena", while one military unit is completely equipped with BMP-3 type military vehicles.
Azerbaijan also manufactures weaponry and military equipment. The country established its national military industry to avoid dependence on equipment from foreign countries. Hundreds of items of military equipment are manufactured by the enterprises of the Defense Industry Ministry, which was established in 2005.
Domestic production includes the Istiglal sniper rifle, Mubariz rifle, Orbiter-2M unmanned intelligence drones, Gurza armored patrol car, "Matador" and "Marauder" armored vehicles, anti-tank mines, and more.
--
Aynur Karimova is AzerNews' staff journalist, follow her on Twitter: @Aynur_Karimova
Follow us on Twitter @AzerNewsAz