Azerbaijani, Russian scientists study Caspian Sea problems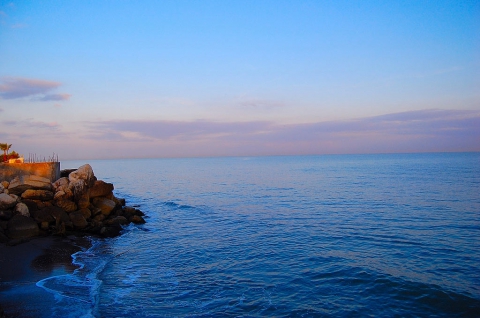 By Nigar Orujova
Azerbaijani and Russian scientists are jointly investigating environmental problems of the Caspian Sea.
The scientists are exploring environmental issues and fluctuations in the water level of the Caspian Sea, the Institute of Geography of Azerbaijan's National Academy of Sciences said.
The studies will examine the issues of pollution of the Caspian Sea during oil production. Other problems connected with the laying of submarine oil and gas pipelines, and Caspian hydrometeorology will also studied.
The study, which is scheduled to begin next year, will be held in both Azerbaijani and Russian sectors of the sea in accordance with an agreement signed between the Geographical Societies of the two countries.
In following years, the scientists plan to study issues connected with the geo-systems leading to the climate change, demographic and migration problems of the population, expanding of road transports due to freight transport, environmental problems arising while building new roads. They will also prepare a joint proposal for the prevention of such problems.
Five coastal states, Azerbaijan, Kazakhstan, Russia, Turkmenistan and Iran, signed a framework convention on the protection of the marine environment of the Caspian Sea in November 2003.
In September, Head of the "Caspian" scientific research center, Chingiz Ismayilov said establishing a single monitoring group is important for resolving the environmental problems of the Caspian Sea.
The unresolved status of the Caspian Sea hinders the establishment of a joint monitoring group. However, he believes such a group may be established at least among the three countries which conducted the delimitation of the sea borders in the Caspian Sea: Azerbaijan, Russia and Kazakhstan. This will help to resolve several issues.
President of National Ecological Forecasting Center Telman Zeynalov , in turn, notes that at present the sea is polluted more with wastewater and technological facilities rather than with oil.
The Caspian Sea, a home to about 141 fish species, is rich with natural resources. Experts believe that some of the causes of pollution in the sea include: development of hydrocarbon reserves in the sea and its surrounding areas, high density of population and industry in the adjacent areas, intensive agricultural development in valleys and the rivers flowing into them, and its closed ecosystem.