OSCE Minsk Group should change its tactics: Deputy PM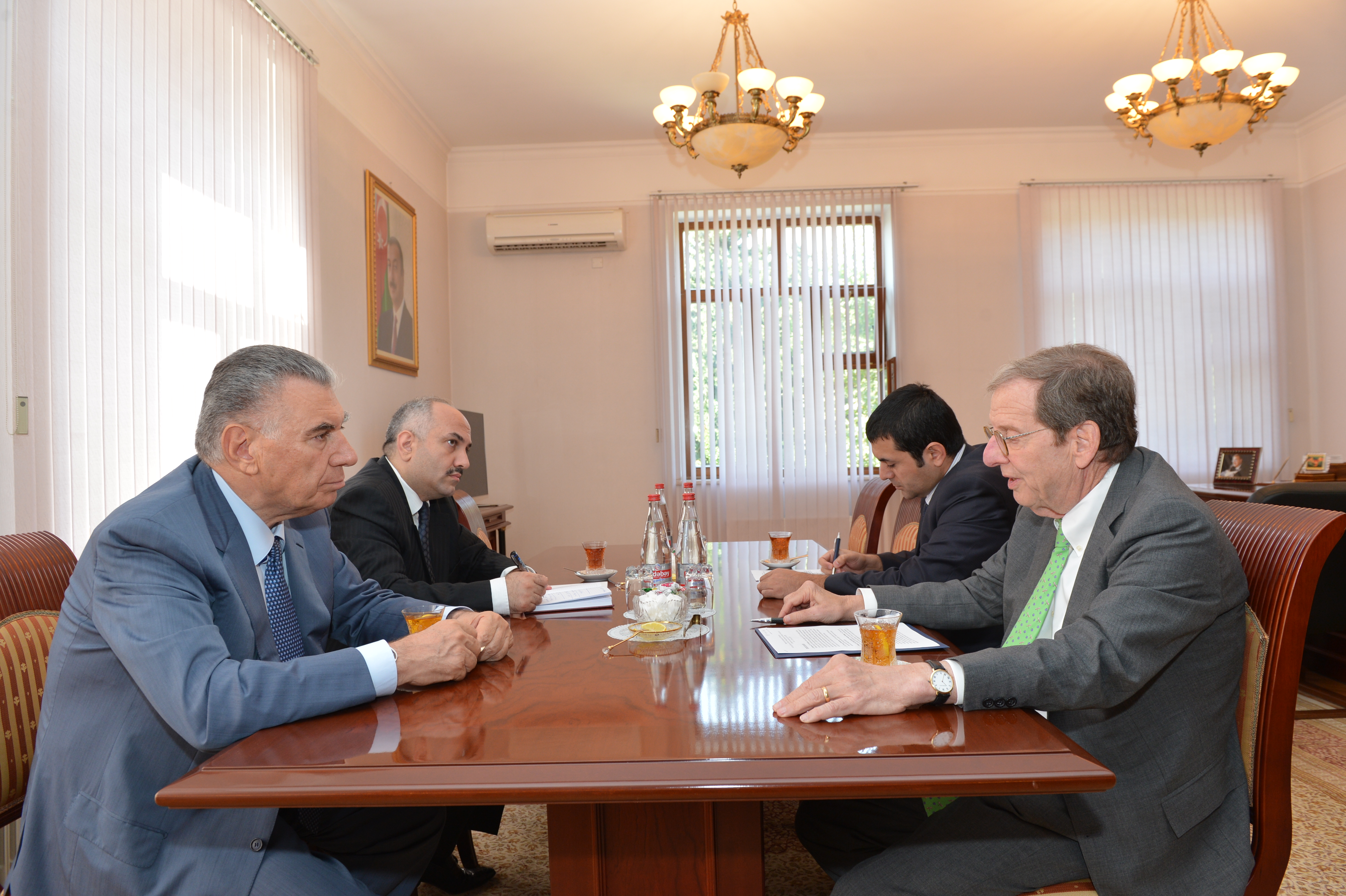 By Sara Rajabova
Azerbaijan called on OSCE Minsk Group to step up efforts to resolve Armenian-Azerbaijani Nagorno-Karabakh conflict.
Azerbaijani Deputy Prime Minister and Chairman of the State Committee for Deals of Refugees and IDPs, Ali Hasanov made the remarks at a meeting with outgoing U.S. Ambassador to Azerbaijan, Richard Morningstar on July 11.
The sides discussed the Nagorno-Karabakh conflict, the problems of refugees and internally displaced persons (IDPs) and ways to improve their living conditions.
Hasanov regretted that the activities of the Minsk Group co-chairmen to resolve the Nagorno-Karabakh conflict have not yielded any result so far.
Peace talks, mediated by Russia, France and the U.S. are underway on the basis of a peace outline proposed by the Minsk Group co-chairs, dubbed the Madrid Principles. The negotiations have been largely fruitless so far.
Morningstar, in turn, noted that Washington has always paid special attention to the settlement of the Nagorno-Karabakh conflict, the improvement of living conditions of the Azerbaijani refuges and IDPs and their return to the native lands.
He also praised Azerbaijan's intensive economic development, its transformation into a country with influence in the international arena and works carried out to improve the social conditions of refugees and IDPs.
Morningstar further spoke about his impressions after meeting IDPs.
They also discussed the current situation of the Nagorno-Karabakh conflict, the future challenges for resolving the problems of the refugees and IDPs, as well as other issues of mutual interest.
The bloody war, which flared up in the late 1980s due to Armenia's territorial claims against its South Caucasus neighbor, left 700,000 people homeless including civilians of Nagorno-Karabakh and the regions adjoining it, as well as the regions bordering with Armenia and Nagorno-Karabakh.
They are temporarily settled in more than 1,600 settlements across 62 cities and regions of Azerbaijan.
Moreover, 250,000 Azerbaijanis were expelled from Armenia and became refugees due to Armenia's ethnic cleansing policy after the emergence of the Nagorno-Karabakh conflict with Azerbaijan.
The Azerbaijanis who had become displaced as a result of the brutal war were forced to live in refugee camps, tents and wagons in very difficult conditions.
As a result of the military aggression of Armenia, over 20,000 Azerbaijanis were killed, 4,866 were reported missing, almost 100,000 were injured, and 50,000 were disabled.
The UN Security Council has passed four resolutions on Armenian withdrawal from the Azerbaijani territory, but they have not been enforced to this day.