Day of Azerbaijani Armed Forces celebrated in Washington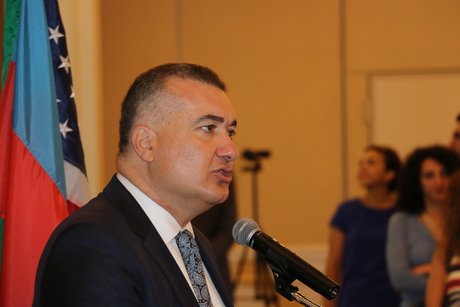 By Aynur Jafarova
The 96th anniversary of the founding of Azerbaijani Armed Forces has been celebrated in Washington, D.C., U.S.
The event was attended by officials of the U.S. Defense Department, representatives of the U.S. Army, Navy, Marine Corps, National Guard and Seacoast defense, U.S. Defense, Military, Air and Naval attachés of countries accredited in Washington, U.S., Defense Intelligence Agency and U.S. Department of Defense., AzerTag state news agency reported.

During the event Azerbaijani Ambassador to U.S. Elin Suleymanov and the country's military attaché Aghaverdi Guliyev made speeches.
The speakers provided an insight into the history of the Azerbaijani Armed Forces.
The event continued with demonstration of videos about the country and the Azerbaijani Armed Forces.
The history of the modern Azerbaijani army dates back to the Azerbaijan Democratic Republic in the early 20th century. The Armed Forces of the Azerbaijan Republic were created on June 26, 1918 to protect the country from the military aggressions of Armenia and Russia.
The Azerbaijani army is professional and the most powerful army in the South Caucasus region. The skills and combat readiness of the Azerbaijani army are growing year on year. The army building process in Azerbaijan is progressing as well.