22 May 2014 15:24 (UTC+04:00)
1 632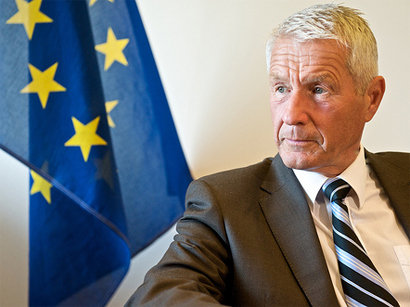 By Sara Rajabova
Council of Europe (CoE) Secretary General Thorbjorn Jagland, who is on visit to Azerbaijan, discusses with the top level officials the prospects for cooperation between the CoE and the country.
The visit is also aimed to discuss the issues regarding Azerbaijan's chairmanship in the Committee of Ministers of the Council of Europe.
Azerbaijani President received the visiting Secretary General on May 22.
During the meeting, President Ilham Aliyev and Thorbjorn Jagland stressed the importance of expanding cooperation between Azerbaijan and the Council of Europe.
They also highlighted the role of Azerbaijan in strengthening energy security in Europe and exchanged views on the prospects of cooperation.
The 'Action Plan for Azerbaijan 2014-2016' was also launched in Baku on May 20 by Jagland and Fikrat Mammadov, Azerbaijani Minister of Justice.
The Action Plan, adopted by the Committee of Ministers on April 16, is aimed at assisting Azerbaijan in its efforts to bring its legislation, institutions, and practice in line with European standards.
It will promote projects in a number of human rights areas, including freedom of expression and media, freedom of assembly, and the fight against corruption.
Cooperation between Azerbaijan and Council of Europe was discussed between Mammadov and Jagland.
Mammadov stressed the importance of the Action Plan adopted for 2014-2016, adding that it would give an impetus to bilateral relations.
He highlighted the democratic reforms carried out under President Aliyev's leadership, establishment of regional courts, and efficient activities of the administrative justice bodies.
Jagland, in turn, underlined the constructive cooperation between Azerbaijan and the Council of Europe, highlighted the Action Plan as resulting from efficient activities, and praised reforms in the judicial system.
The sides exchanged views on improving legislation and strengthening relations with the public.
Azerbaijan's role as energy producer and a transit country in the European energy system was hailed at Jagland's meeting with Azerbaijan's Energy Minister Natig Aliyev.
The sides expressed satisfaction with the rapid development of cooperation between Azerbaijan and the organization.
Azerbaijani Parliament Speaker Ogtay Asadov also held a meeting with Jagland , at which he said Azerbaijan successfully fulfills commitments made to the Council of Europe.
Touching upon the fact that Azerbaijan took over the chairmanship at the Committee of Ministers of the Council of Europe, Asadov said it will contribute to the development of bilateral ties.
During his Azerbaijan visit, Jagland also visited the 4th ASAN Service Center in Baku.
Jagland visited Azerbaijan's Gabala region on May 21 and become familiar with tourism infrastructure, production enterprises, and examples of modern architecture.
Azerbaijan assumed the chairmanship of the Committee when the council held its 124th session in the Austrian capital of Vienna in early May.
Azerbaijan's chairmanship of the Committee officially started on May 14, and will end in November when the country hands it over to Belgium.
Related News