Norwegian Carlsen again leads Vugar Gashimov Memorial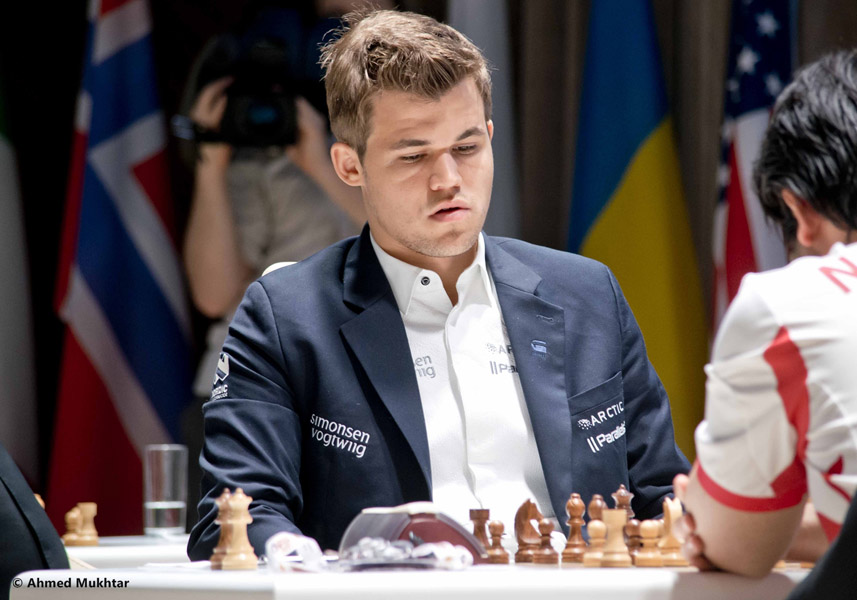 By Nazrin Gadimova
The Norwegian chess player Magnus Carlsen successfully played against American Hikaru Nakamura during the seventh round of the Vugar Gashimov Memorial on April 27.
The set between world's top chess players ended on the 52nd move with the victory of Carlsen.
It was the only significant result of the day in the A tournament. The two other pairs of the main tournament - Teymur Rajabov - Shahriyar Mammadyarov (both Azerbaijan) and Sergey Karjakin (Russia) - Fabiano Caruana (Italy) made a peace.
A tournament's standings after the seventh round is as following: Carlsen - 4.5 points, Rajabov - 4, Caruana, Karjakin - 3.5, Nakamura - 3, Mammadyarov - 2.5.
In the B tournament, Chinese Wang Hao defeated Russian Alexander Motylev, game of Azerbaijan's Gadir Huseynov and Pole Radoslaw Wojtaszek ended in a draw, as well as games Nijat Abbasov - Rauf Mammadov and Eltaj Safarli - Vasif Durarbeyli (all Azerbaijan). Frenchman Etienne Bacrot was defeated by Ukrainian Pavel Eljanov after prolonged resistance.
Standings is as following: Bacrot, Eljanov - 4.5 points, Wang Hao, Wojtaszek, Huseynov - 4, Motylev - 3.5 points, Abbasov, Mammadov - 3, Durarbeyli - 2.5, Safarli - 2.
The eighth round of the Shamkir Chess 2014, to be held on April 28, will see the following games: Mammadyarov - Nakamura, Carlsen - Karjakin and Caruana - Rajabov. The B tournament will see the games Durarbayli - Mammadov, Wojtaszek - Abasov, Eljanov - Guseinov, Motylev - Bacrot, Safarli -Wang.
Shamkir Chess 2014 opened in the Heydar Aliyev Center on April 19 and will run until April 30.
The event, organized by JSC Synergy Group, is being held as part of the "State Program on development of chess in Azerbaijan in 2009-2014". It is dedicated to world-famous Azerbaijani grandmaster Vugar Gashimov who passed away as a result of a serious disease in January.
Money prize of the A tournament, sponsored by "Synergy Group" is 100,000 euros, while the prize fund for this tournament will be 30,000 euros.