Azerbaijan`s official says Zhirinovsky uses freedom of speech to voice stupid views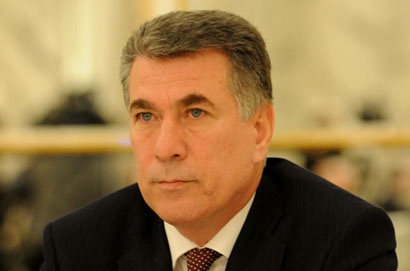 First Deputy Chairman of Azerbaijan`s Parliament Ziyafat Asgarov has commented on Russian MP Vladimir Zhirinovsky`s remarks about the Azerbaijani people, AzerTag state news agency reported.
Ziyafat Asgarov said: "Will anyone doubt that when unlike an ordinary man, a man involved in politics becomes mentally ill, this can have very dangerous consequences?
They call Zhirinovsky a political clown. We think it is a right, but incomplete definition because he is a mentally ill political clown. An apology for a historian and Orientalist, who "discovered" the absence of the Azerbaijani nation, he said at the State Duma: 'What does Azerbaijan mean in Russian? 'Azer' means the Caspian Sea, 'baja' means area. In other words - those who live near the Caspian Sea. In Russian we say the Caspians. This is not a nation.'
What does it mean? It means that the mentally ill political clown Zhirinovsky, who when asked about his ethnic origin says that he`s father is 'a lawyer', insults a nation that has a great history and culture. We could have dismissed the ravings of this fool, but what is regrettable is that these words were said in the Russian parliament and that they did not cause even a tiny protest.
How can one turn a blind eye to the ravings of this madman about the origins of the Azerbaijani nation in front of the political elite, scientific and political community of Russia, a country known worldwide for its vast scientific, cultural and political potential.
Zhirinovsky has repeatedly insulted the Azerbaijani people and state. The Russian and Azerbaijani political circles sometimes call Zhirinovsky`s remarks 'rubbish of a madman', and say that 'they do not reflect Russia`s position and should be dismissed'. But the reality is that nobody puts an end to Zhirinovsky`s irresponsible "rhetoric" and rubbish about neighboring nations and states, which causes their anger and in some cases even diplomatic scandals.
It is very regrettable, and, at the same time, thought-provoking.
Zhirinovsky`s latest 'statement' is a breach of international law and political ethics.
Calling Zhirinovsky a political clown is no way out. There are clear elements of stigma in his ravings so it`s not right to wash your hands of this just by attributing everything to madness.
It is clear that rubbish told by this 'politician' cannot harm Azerbaijan-Russia relations because these relations have stood the test of the independence years and are developing based on the strong foundations of mutually fruitful cooperation.
However it`s high time we said 'Stop' to a clown like Zhirinovsky, who uses the freedom of speech to continue voicing stupid and dangerous views."