Leopards recorded in Azerbaijani preserves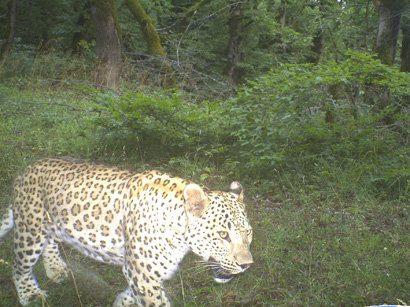 By Sabina Idayatova
Photos of two adult male leopards have been taken during monitoring in Zangazur National Park and Hirkan National Park in Azerbaijan in the summer months, the Ministry of Ecology and Natural Resources said on September 23.
The monitoring was undertaken by the ministry jointly with the World Wildlife Fund.
Spokesperson for the ministry Irada Ibrahimova said it was possible to take valuable pictures due to the dynamic local population of roes and moufflons, which are the main prey of leopards.
According to experts, the results of the ongoing monitoring provide grounds to say that the return of rare species of animals to their habitats is not accidental.
Furthermore, increase in the population of leopards, their rivals as well as food items has been revealed during the monitoring.
Ibrahimova also noted that a male leopard was recorded on camera in the territory of Hirkan National Park during the monitoring. Materials were collected on the dynamic population of its main prey such as wild boars and deers.