World-famous Azerbaijani scientist Lotfi Zadeh gets new award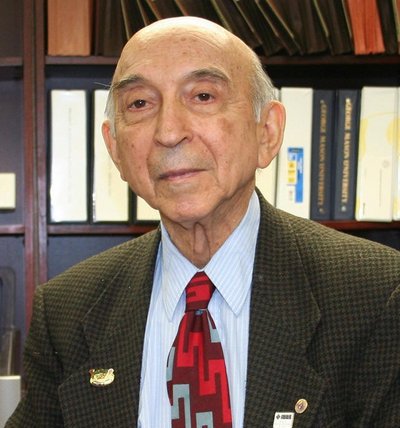 By Aynur Jafarova
World-famous Baku-born scientist, a mathematician, electrical engineer, computer scientist as well as professor emeritus of computer science at the University of California Lotfi Zadeh has been awarded 400,000 euros by Spanish BBVA Foundation (Banco Bilbao Vizcaya Argentaria, S.A.).
The scientist received this award for his contributions to science.
The award was presented at the ceremony held in Spain's capital Madrid.
Zadeh has a long list of achievements. One of the recent awards of the scientist came from the Franklin Institute (Philadelphia, 2009) -- Benjamin Franklin Medal in Electrical Engineering for inventing and developing the field of "fuzzy logic," in which a system applies a quantitative assessment to inherently ambiguous ideas, thus providing a new paradigm to improve artificial intelligence and automated control systems.
The scientist's invention and development of fuzzy logic, which was a revolutionary breakthrough in the scientific world, has enabled machines to work with imprecise concepts, in the same way humans do, and thus secure more efficient results more aligned with reality. In the last fifty years, this methodology has generated over 50,000 patents in Japan and the U.S. alone. Japan awarded him Honda Prize -which is granted only to scientists who have made revolutionary discoveries.
Zadeh's revolutionary theory of fuzzy logic emerged in 1965. The essence of fuzzy logic is that the world is a variety of shades - from black to white. To put it scientifically, in this world nothing is absolute in mathematical terms, as everything varies to a certain degree on a scale of 0-1, thus, between zero and one there are dozens, hundreds, of other shades. The word "fuzzy" is used because the borders of white and whitish, scarlet and red are fuzzy; there is a continuous transition from one to the other.
It changed entirely the concept of cybernetics and played an important role in space satellites, cognition and the study of images, the Earth and the Universe, and in research into UFOs. The theory is widely applied in all areas of modern industry - robotics, mechanical engineering, electronics, fifth and sixth generation supercomputers and defense technology forming the basis of fuzzy technology throughout the world.
However, fuzzy logic is not Zadeh's only theory. He developed the theories of system and optimal filters. The theory of optimal filtration is a new step in modern mathematics, cybernetics and computerization, and is valued not only for its scientific originality, but also its practical results. The theories of multiple valued optimization and impressions in dynamic systems were also developed by Zadeh.Zadeh's new field of mathematics, fuzzy set theory and fuzzy logic, have found numerous applications ranging from consumer electronics to medicine and natural languages. His work has enabled us to communicate with machines through an increasingly natural, human language.
Zadeh still continues his research in the fuzzy logic field, soft computing, in the hope to connect computers and systems more closely with natural language.