10 May 2013 18:16 (UTC+04:00)
962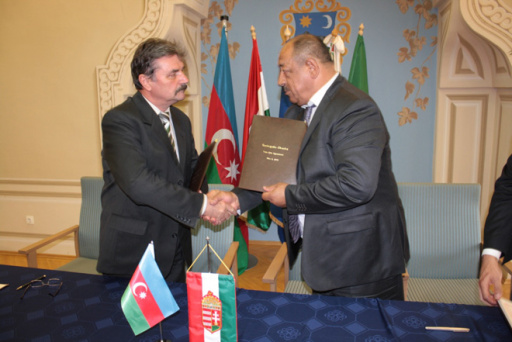 By Sara Rajabova
A joint declaration on twinning of the Hungarian city Gyongyos and the occupied Azerbaijani town of Shusha has been signed in Hungary.
The Azerbaijani Embassy told Trend news agency on Friday that the document was undersigned by Gyongyos city mayor Laszlo Farago and head of the Shusha executive power, chairman of the Azerbaijani community of Nagorno-Karabakh Bayram Safarov.
The document covers the intentions to establish economic, cultural and humanitarian relations, cooperate in the field of tourism and education, disseminate information about the Nagorno-Karabakh conflict and Shusha in Hungary, other ways of information exchange and joint cooperation.
Prior to the signing ceremony, a meeting was held with the participation of the representatives from the City Hall of Gyongyos, municipality and the Azerbaijani community in Hungary.
The meeting participants were informed about the atrocities committed by the Armenians in Nagorno Karabakh and barbarous destruction of Azerbaijani monuments dating back to the past few centuries in Shusha, the pearl of the Caucasus.
Also, a business forum was held with the participation of members of the Azerbaijani delegation and businessmen of Gyongyos city.
Shusha, the cultural center and capital of the historical Karabakh Khanate, fell victim to the Armenian aggression on May 8, 1992, when 290 sq. km of Azerbaijan's territory went to the control of the Armenian invaders.
As a result of the occupation of Shusha, 195 civilians were killed, 165 others wounded, 22,000 displaced and 68 taken hostage by the Armenians. Their fate is unknown to this day.
Armenia occupied over 20 percent of Azerbaijan's internationally recognized territory, including Nagorno-Karabakh and seven adjacent regions, after laying territorial claims against its South Caucasus neighbor that had caused a lengthy war in the early 1990s. The UN Security Council has adopted four resolutions on Armenia's withdrawal from the Azerbaijani territory, but they have not been enforced to this day.
Related News