Azerbaijani ministry implements youth leadership project jointly with UNDP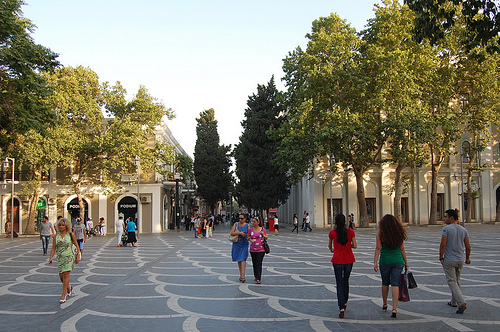 By Aynur Jafarova
A youth campus event was held outside the Azerbaijani capital Baku on December 22-23 under a project aiming to promote youth leadership and implementation of the state policy on youths.
Project manager Kamala Musayeva, chairman of the National Council of Youth Organizations of Azerbaijan Shahin Seyidzade, and head of the department for youth organizations at the Ministry of Youth and Sports, Indira Hajiyev, spoke at the "Azerbaijan in 2020" event, which took place at the AF Hotel & Aqua Park resort complex in the Novkhany settlement.
The event, joined by 50 representatives of Azerbaijani youth, discussed the concept "Azerbaijan - 2020: Vision to the future".
The project, "Young people's participation in decision-making and execution of the state youth policy", is being implemented by the United Nations Development Program (UNDP) and the Ministry of Youth and Sports.
The project was founded on the basis of a memorandum signed by the UNDP and the ministry in March 2012. The implementation of the project began in June and will finish in December 2013.
The goal of the project is to empower the young people of Azerbaijan to participate in decision-making more actively by contributing to policy planning and policy outcomes, and to develop their capacity as future leaders and public servants.
Kamala Musayeva told Azerbaijan's state news agency AzerTAg that the project consists of two stages: development of leadership and civil service experience programs for youth.
The project supports the priorities outlined in the state program "Azerbaijani youth in 2011-2015", and promotes increasing youths' involvement in the development of society.
UNDP has been working in Azerbaijan for 20 years. It opened its office in the country in the fall of 1992 soon after the republic gained independence from the Soviet Union and joined the United Nations.
UNDP supports the government of Azerbaijan in the areas of governance and sustainable development and is active in the issues of youth engagement and women's rights.
The organization strives to promote youth empowerment as a cross-cutting issue in its programs. It also mobilizes youth to participate in decision-making and contribute to the achievement of the environmental sustainability goals.