Kazakh, Azerbaijani officials discuss media co-op, exchange of experience & content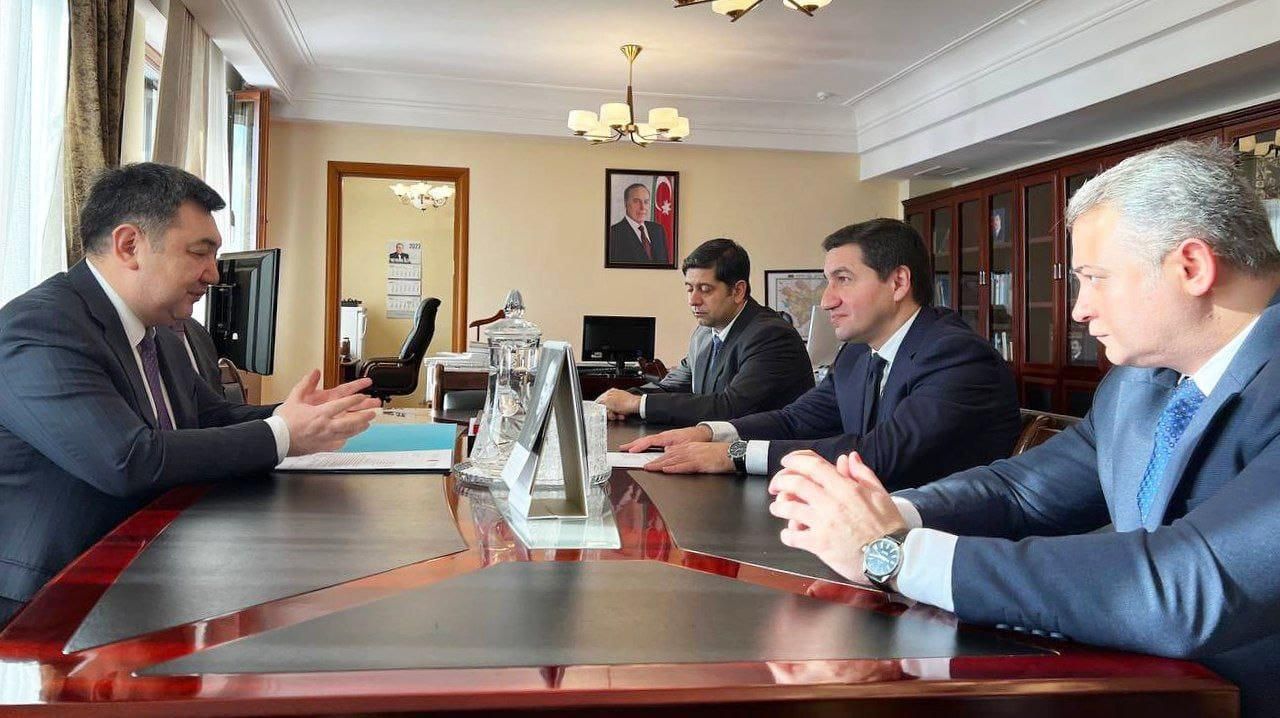 Kazakhstan's Information and Community Development Minister Darkhan Kydyrali proposed the exchange of experience and content in the media sector between Kazakhstan and Azerbaijan taking into mind the common interaction in this sector, Azernews reports.
The remarks were made during his meeting with Azerbaijani presidential aide Hikmat Hajiyev.
"This year marks the 100th anniversary of the national leader of the Azerbaijani people, prominent statesman Heydar Aliyev. In honor of this event, documentaries and articles are published in the media organizations of Kazakhstan," the minister added.
He also praised the conduct of the 10th Baku Global Forum at the highest level.
The minister emphasized that Kazakh President Kassym-Jomart Tokayev pays special attention to strengthening relations with Azerbaijan, which was evident by the official visit of the Azerbaijani president to the country last August, which resulted in the signing of a memorandum on cooperation in the information sector between the two countries.
Kydyrali also proposed joint work in the direction of youth policy.
Further, he thanked Azerbaijan for participating in the 1st Central Asian Media Forum, held at the end of last year in Astana, and invited him to become the guest of honor of the first Nauryz National Television Series Award, which will be held on March 31 this year. He also said that Azerbaijan will partake in the International Forum of Volunteers and the Youth Platform of the Organization of the Turkic States.
In his turn, Hajiyev highly appreciated the cooperation between the two countries and expressed readiness to implement joint projects.
The diplomatic relations between Azerbaijan and Kazakhstan were established on August 30, 1992. The Kazakh embassy in Azerbaijan was opened on January 9, 1993, and the Azerbaijani embassy in Kazakhstan on March 1, 2004.
The two countries closely cooperate in various sectors of the economy. Around 160 companies with Kazakh capital operate in Azerbaijan in the industry, construction, trade, agriculture, transport, services, and Azerbaijani companies are also represented in the Kazakh market.
---
Follow us on Twitter @AzerNewsAz