Unique cultural materials discovered in Shabran [PHOTO]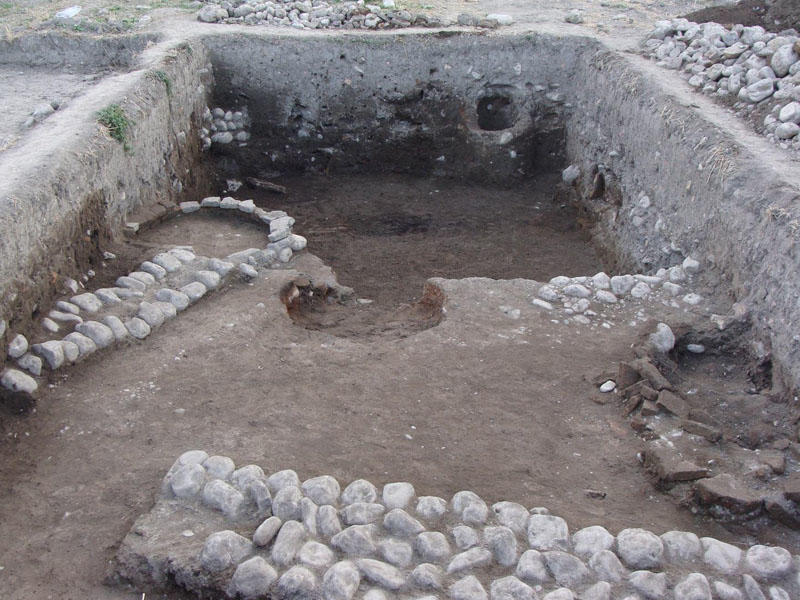 By Abdul Kerimkhanov
Construction remains and material culture samples related to the 11-15th centuries were discovered in the part of the Baku-Guba-Russia road, which is under construction now, that falls on the area of the Shabran City Historical Reserve.
The main objective of archaeological excavations conducted in September and October is to check if there are significant architectural monuments, buildings, and to define the boundaries of the ancient city, the Institute of Archaeology and Ethnography of ANAS stated.
An archaeological excavation of six square meters was carried out on the territory of the Shabran City Historical Reserve.
As a result of preliminary studies, the walls of the streets laid with river stones, baked bricks and wall remains made of river stones were discovered.
At the same time, it is assumed that there are some ovens in one of the squares and this is a tandirxana.The remains of the plant consisting of baked bricks, which are supposed to be brown, are also exposed. Water pipe locations, numerous red, green and blue colored containers, a large number of metal weapons, decorative items, etc. were found on the area of excavation. An archaeological excavation in one of the squares was carried out in the depth of up to four meters and it was identified that the cultural layer continues.
Discovered remains of the building and material culture are referred to the 11-15th centuries, according to preliminary research.
Head of the branch of the Institute of Archeology and Ethnography of ANAS, head of the Shabran archaeological expedition, PhD in history Safar Ashurov consider that researches on "Shabran city" Historical Preserve are of exceptional importance for the deeper study of Shirvanshahs' state, and in general the history of Azerbaijan.
The territory of the ancient city of Shabran has been declared historic-architectural reserve in 2003. Studies on the reserve are of exceptional importance in terms of deeper understanding of the history of Shirvanshahs, which existed for 677 years, and the history of the country as a whole.
Archaeological monuments covering a great era from ancient times to the Middle Ages have been discovered and studied in Azerbaijan.
The study of archaeological monuments of Azerbaijan began with the registration of ancient monuments in 30-50s of the 19th century.
As a result of research, it became known that people have settled the territory of Azerbaijan two million years ago. As archeological investigations were expanding, hundreds of new monuments have been discovered and explored.
The Azerbajani National Academy of Sciences (ANAS) is the main state research organization, and center that conducts research and coordinates activities in the field of science and social sciences in the country.
The academy, established on January 23, 1945, works closely with various foreign research institutes and organizes international scientific seminars and conferences in Azerbaijan.
---
Follow us on Twitter @AzerNewsAz