25 January 2018 13:00 (UTC+04:00)
2 766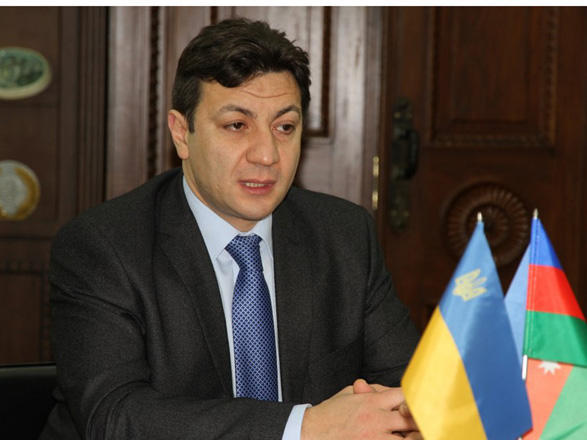 By Aygul Salmanova
Azerbaijan extends the geographical zone of its trade houses aiming to support the promotion of national goods worldwide.
Country's Extraordinary and Plenipotentiary Ambassador to Ukraine Azer Khudiyev noted that Azerbaijan will open its Trade House in Kiev in mid-March 2018.
"In mid-March, we are planning to open Azerbaijan's Trade House in Kiev. We have already found premises in the center of Kiev, and now the matter is in the stage of documentation. Respective repairs are being conducted simultaneously," he said in his interview with the National News Agency of Ukraine.
The head of the Trade House has already been elected, and he is currently engaged in the formation of his apparatus, according to Khudiyev.
"The Trade House will showcase and sell products of domestic production, as well as coordinate imports, exports and re-exports. We also plan to analyze the market, identify priority areas of cooperation, and provide legal support for Azerbaijani business companies," noted the ambassador.
Khudiyev is confident that this will be a good platform for coordinating the entire Azerbaijani business, which will be very beneficial for the Ukrainian side.
There are a lot of interesting Ukrainian projects and products that need export and import to the markets of Central Asia and Iran, he said.
"However, this is impossible due to a number of circumstances. But I think the implementation of these opportunities is quite realistic through Azerbaijan and the Baku International Sea Trade Port, which we recently opened," added the diplomat.
The ambassador noted that the volume of trade turnover between Ukraine and Azerbaijan can be increased by $1 billion per year with the help of this project and several other events.
The ambassador also noted that Azerbaijan wants to take an active part in the energy projects and tenders in Ukraine.
"We would like to take an active part in the energy projects and tenders held in Ukraine," Khudiyev said. "The largest share of commodity turnover is the export of Azerbaijani oil and oil products to Ukraine."
Azerbaijan monthly imports about 200,000-300,000 tons of oil, as well as oil products, gas condensates and other light and heavy materials for energy needs to Ukraine.
"SOCAR, which has already invested more than $300 million in Ukraine, plans to further expand its business under favorable and attractive investment conditions," he said. "In the near future, we expect the visit of the management of this oil company to discuss with the Ukrainian Energy Ministry the prospects for a number of very profitable projects."
SOCAR is represented in Ukraine by its subsidiary - SOCAR Energy Ukraine. The company also owns 61 filling stations.
Trade houses in foreign countries target to facilitate the export process, promote an export of competitive Azerbaijani production and enable the countries to expand trade operations.
As of today, 92 trademarks of Azerbaijan are protected under the 'Made in Azerbaijan' brand, while the country's total outputs nears 250 kinds of products in food, light, heavy and construction industries. The brand is highly successful in regional and world markets, and Azerbaijan's local output meets all the necessary standards.
The first Trade House of Azerbaijan was opened in Minsk, the capital of Belarus, on May 26 to facilitate the export process, promote an export of competitive Azerbaijani production and enable the countries to expand trade operations. Today, alcoholic products, natural juices, jams, cosmetics and other products of Azerbaijan are displayed in the Trade House.
The country plans to open its second Trade House in Arkhangelsk region, Russia. The opening of the Trade House, which will be located in one of the historical buildings in Arkhangelsk, is expected to be a good driver for the development of economic and cultural-educational cooperation between Arkhangelsk and Azerbaijan.
One more trade house is planned to open in Latvia. The trade house will support promotion of Azerbaijani products under the 'Made in Azerbaijan' brand in Latvia, marketing research, participation in exhibitions and other activities related to the promotion of Azerbaijani goods.
As for Ukraine, the two countries enjoy sustainable prospects of bilateral relations in political, economic, energy, transport and humanitarian fields.
Main goods imported from Ukraine to Azerbaijan remains as mainly metallurgy products, machine building products, agricultural and industrial products, and chemical industry products. While main goods exported from Azerbaijan to Ukraine are generally products of fuel energy industry, chemical industry products, and agro-industrial products.
Azerbaijan is one of the main trade partners of Ukraine among the CIS countries. Trade turnover between Azerbaijan and Ukraine amounted to $334.18 million in 2016, according to country's State Customs Committee.
--
Follow us on Twitter @AzerNewsAz