Indian envoy: Baku-Tbilisi-Kars route multiplies transportation options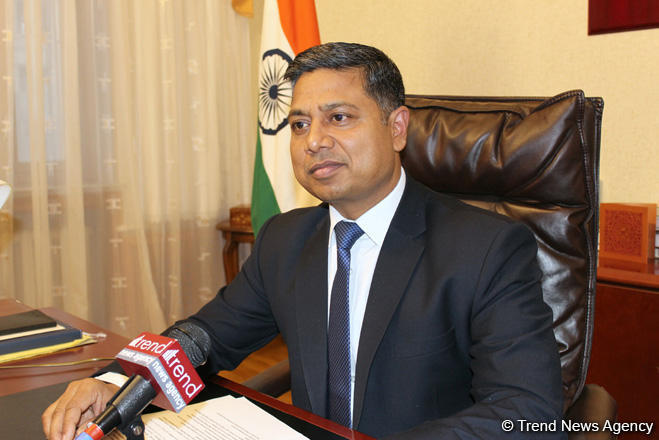 Trend:
The Ambassador of India to Azerbaijan, Sanjay Rana, tells Trend about the energy cooperation, tourism ties and business opportunities in the non-oil sector.
Mr. Ambassador, India and Azerbaijan celebrated the 25th anniversary of the establishment of their diplomatic relations last year. Could you please speak about the achievements made during these years?
India attaches a high priority to relations with Azerbaijan, the biggest economy in the Caucasus region, which we consider as our extended neighborhood. We have centuries-old linkages with this region. Our societies have been enriched by the historical links of culture, cuisine and commerce between us. Over the two and half decades, as Azerbaijan has made great progress in every sphere after gaining the independence, the bilateral relations between India and Azerbaijan have expanded in all fields.
Today, we are partners in the energy sector. India's ONGC-Videsh was among the signatories of the renewed 'Contract of Century' Production Sharing Agreement signed on the ACG fields in Baku in September 2017. Our bilateral trade has been growing at a healthy rate. We are working together on development of the International North-South Transport Corridor (INSTC) to connect our regions. We have growing cooperation in capacity building under the Indian Technical and Economic Cooperation (ITEC) programme.
Our people-to-people exchanges in cultural, educational and other areas have been mutually beneficial. This was recognized at the 'India-Azerbaijan Friendship Year 2017' held during 2017 to mark the 25th anniversary of the establishment of diplomatic relations between our countries. Our Minister of State for External Affairs Mr. M. J. Akbar visited Baku in end-November 2017 and held detailed discussions on expanding bilateral relations with President of Azerbaijan, Mr. Ilham Aliyev and Foreign Minister, Mr. Elmar Mammadyarov. Both sides conveyed their keen interest in further developing the bilateral ties to reach new heights.
Given the current progress of the India-Azerbaijan economic relations, which priority areas would you distinguish for deepening the interaction?
While our trade with each other is steadily rising, it is still at modest levels and there is a great deal of untapped potential. We have chosen some priority areas for developing concrete steps for greater economic and commercial cooperation such as petrochemicals, agriculture, renewable energy, pharmaceuticals and health care, tourism, education, IT services and operationalization of the INSTC. Indian companies are keen to be part of emerging opportunities in Azerbaijan in agriculture sector.
In the pharmaceutical sector, many Indian products are in line for registration, which would allow people in Azerbaijan to access high quality medicine at reasonable prices. Another important area, where we are focusing on is establishing direct flights between India and Azerbaijan. I feel directly flights would greatly enhance flow of businessmen and tourists and would create new business opportunities in tourism, medical services and people to people links.
How India assesses the prospects of the International North-South Transport Corridor project? How much cargo growth India eyes with the full operation of the Corridor?
Developing the INSTC has been a shared priority for both India and Azerbaijan as it will address the lack of physical connectivity between our respective regions. For India, the INSTC will provide the shortest and cheapest route to reach Azerbaijan, Russia, Turkey and CIS countries. India has been working with Iran to develop the Chabahar port as a modern port, which started working since November 2017. Azerbaijan has launched the new Baku-Tbilisi-Kars (BTK) rail route, which is a great development as it multiplies the options for transportation. These developments would have a multiplier impact on regional trade in coming years. Already the previous predictions regarding the traffic volumes look modest and once the missing railway link in Iran is functional, the growth of cargo flowing between our regions would be well above the expectations.
Azerbaijan is taking many steps to promote industry as well as agricultural sector. Agro parks, as well as industrial and technology parks have been opened in the country. Have Indian companies shown interest in this regard?
Indian companies are keen for partnership in undertaking projects in petrochemical sector such as building and renovating oil refineries. They are also eager to make use of opportunities in non-oil sectors, like agriculture and pharmaceuticals and information technology, which are being given a lot of support by the Government of Azerbaijan. Indian companies have shown interests in industrial parks, where special benefits are provided to investors.
Indian pharmaceutical major Sun Pharma held a groundbreaking ceremony near Baku in July 2017 for construction of a plant - a joint venture with Azerbaijani company for production of solid consistency drugs. A delegation of Indian Marathi Bandhkam Vyavasayik Association (MBVA) visited Baku last year for the India-Azerbaijan Business Forum organized in collaboration with the National Confederation of Entrepreneurs (Employers') Organizations of Azerbaijan to study opportunities in the real estate sector. A visit by Indian business delegation from the PHD Chamber of Commerce and Industry to Azerbaijan is being planned for March 2018.
Earlier it was reported that Indian refiners would like to establish mutually beneficial long-term business relations with SOCAR? What can you say about the energy cooperation?
Indian companies are strong in petrochemical area and they are keen to work in Azerbaijan and work on project with SOCAR and other partners. In this regard, I would like to particularly mention L&T Petrochemicals and Engineers India Limited. They have comprehensive expertise and solid experience in construction of new refineries and upgrade, renovation and maintenance of existing refineries. These companies are actively looking at business opportunities in these areas in Azerbaijan. In the energy sector, beside our equity partnership in the Azeri- Chirag- Guneshili (ACG) fields and Baku-Tbilisi-Ceyhan (BTC) pipeline, Indian companies buy significant amount of oil from Azerbaijan. These are important relationships for us as they contribute to our energy security.
What is the position of India on the resolution of the Armenia-Azerbaijan Nagorno-Karabakh conflict?
We believe that such conflicts are best resolved through peaceful negotiations. We have been supportive of the talks between the two sides mediated by the OSCE Minsk Group. India has always supported the principles of territorial integrity and national sovereignty. We hope that the conflict will be resolved and peace would prevail in the region.
What steps can be taken to attract Indian tourists to Azerbaijan? What can attract your compatriots in Azerbaijan?
Indians are increasingly traveling abroad in large numbers and they constitute an important portion of international travelers. Indian tourists are generally very cosmopolitan. Besides the US and Europe, they love to visit new destinations. Azerbaijan, particularly Baku, is gaining popularity as a new tourist destination, which more and more Indians would like to visit. The e-visa by ASAN service launched last year has done wonders for the tourism.
I see many Indian tourists in Baku whenever I visit the Old City, or the Fountain Square or Ateshgah. Even the locations outside Baku, such as Gabala, Sheki and Shahdag are popular among Indians. Though there are flights connections via other countries, the lack of direct flights between Baku and Indian cities has been a limiting factor for the tourism. If we have direct flights between India and Azerbaijan, we would see much larger number of Indian tourists coming here as Baku and Azerbaijan has so much to attract the tourists.
What about Azerbaijani travelers? Do you consider developing tour packages or any other steps for attracting Azerbaijani tourists to India?
Promoting tourism from Azerbaijan to India is a priority for us. Our tourism companies have been participating in travel fairs here and talking to local travel companies. Together they have developed travel packages meeting requirements and tastes of the Azerbaijani tourists. India has an amazing range of tourist destinations which cater to people of all tastes. We have world-class beaches, historical monuments, rich cultural heritage, vibrant people and amazing cuisine. India is very popular destination for medical tourism as we have excellent hospitals, which offer world-class services. We hope to bring more delegations of Indian travel operators and tour companies to Azerbaijan and bring them together with the local travel companies.
As easy travel is one of the main factors affecting the travel sector, when we can expect opening of the charter flights to achieve development in tourism cooperation?
Easier and faster travel by direct flights could do wonders to flow of tourists between India and Azerbaijan. Besides the possibility of scheduled flights, we have also been talking to entrepreneurs looking at the possibility of starting charter commercial flights. This would be a great boost for the tourism from both sides. This, off course, would depend on developing reasonably priced packages to suit the requirements of the tourists.
Traditionally, Indian culture and film enjoy high popularity in Azerbaijan. Given this in mind, how it would be effective, in your opinion, to popularize your culture in Azerbaijan, for instance organizing tours of Bollywood stars to the country?
With our shared heritage and historical links, India and Azerbaijan have close cultural affinity. This is seen in the high popularity of Indian films and dance and music in Azerbaijan. Earlier during the Soviet period Indian films were widely screened in Azerbaijan and the older generation still remembers the Indian movies with great nostalgia. Recently, TV journalist Namig Gurban made a documentary on life of one of our film stars titled "Dharmendra-A Messenger of Love" which was liked a lot by people here. We have noticed a growing demand for new Indian films here, particularly among the younger generation and some Azerbaijani companies are planning to launch Indian movies here.
But let me tell you that there are many other aspects of Indian culture, which are popular in Azerbaijan. Yoga is gaining huge popularity among all age-groups here. We had excellent turnout at the yoga events organized to celebrate the International Day of Yoga on June 21. We hold a week-long yoga festival to accommodate the large number of Yoga enthusiasts, who take part in these events. Indian classical dances as well as folk dances and music are also very popular and there are many dance schools that train students.
The Indian Council for Cultural relations (ICCR) has been organizing visit of Indian dance and music troupes and their performances in Baku, as well as other cities. While we are taking of cultural exchanges, I must mention that Azerbaijani films have been performing exceptionally well at Indian Film Festivals. Well-known Director Shamil Aliyev's 'Steppe Man' recently won top hours at the Calcutta Cultural Film Festival.
India is famous for delicious spices. What spices could the Indian exporters offer Azerbaijan taking into account the spices of the country's cuisine? And also, which Azerbaijani spices would you offer to Indian cooks?
India is famous for its cuisine and its rich treasure of spices. From my experience of living in Azerbaijan, same is true for Azerbaijan. Azerbaijan has a unique cuisine with dishes of unmatched taste. Azerbaijan produces some amazing spices, such as high-quality saffron, sumac and others. Your various kinds of Pilaffs – which we call Pulao in India - are a treat for food lovers. This probably shows our shared heritage and links over thousands of years. I feel Azerbaijani cuisine is a great attraction to tourists visiting this ancient, but modern land.
--
Follow us on Twitter @AzerNewsAz