Finance Ministry: Azerbaijani GDP to grow in 2017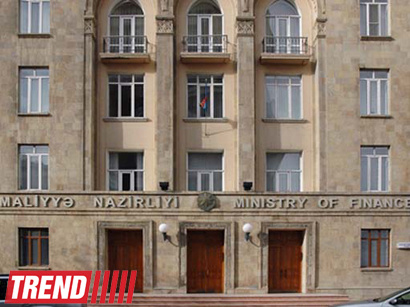 By Rashid Shirinov
The state budget revenues of Azerbaijan for 2017 are projected at the level of 15.955 billion manats ($9.75 billion), and expenses – 16.6 billion manats ($10.15 billion), Azerbaijan's Finance Ministry said on September 29.
In 2017, the upper limit of the budget deficit is forecasted to hit 645 million manats ($394 million). The deficit will be covered by revenues from privatization, internal and external loans, foreign grants and the balance of the Treasury single account of the state budget for January 1, 2017.
The Azerbaijani government expects one percent growth of the real GDP for 2017. Meanwhile, the real non-oil GDP growth is projected at 2.5 percent for next year.
According to the draft document, GDP growth will continue in subsequent years, and it will make 2.8 percent by 2019, then slightly declining to 2.4 percent by 2020.
Moreover, the share of private sector in GDP is expected at the amount of 82.8 percent by 2017.
According to the forecast, 6.4 percent ($2.4 billion) of GDP will be generated in the agriculture, forestry and fisheries, 36.2 percent ($13.6 billion) in industry, 9.9 percent ($3.7 billion) in construction, 39.6 percent ($14.9 billion) in the services sector, and 7.8 percent ($2.9 billion) through net taxes on products and imports.
Moreover, according to the presentation, the costs of maintenance for prosecution, law enforcement and judicial authorities will increase in 2017 in Azerbaijan. Thus, funds dedicated to this sector will amount to 7.4 percent of budget spending – 1.23 billion manats ($750 million), which is $15.5 million more compared to 2016.
Funds to health will also increase – 775.8 million manats ($474 million) will be allocated in 2017. The funds will amount to 4.7 percent of the budget expenses, which is 0.2 percent more compared to 2016.
Some 180.3 million manats ($110 million) of the dedicated means will be spent on financing targeted programs and activities.
About 22.2 million manats ($13.6 million) will be spent on activities in the field of treatment of kidney failure, 18.5 million ($11.3 million) – for treatment of such inherited blood diseases as hemophilia and thalassemia, 39,3 million manats ($24 million) – for funding national activities in the fight against cancer, and 36.1 million manats ($22 million)for financing struggle with diabetes, etc.
The presentation also revealed the amount of transfers of Azerbaijan's state oil fund SOFAZ to the state budget. Thus, it is expected at the level of 6.1 billion manats ($3.7 billion) in 2017 that is by 19.9 percent less than in 2016.
SOFAZ's revenues are forecast at the level of 8.37 billion manats ($5.1 billion) in 2017 that is by 2.4 times more than the forecast for 2016.
Expenses of SOFAZ are expected at the level of 6.95 billion manats ($4.25 billion) in 2017 that is by 34.6 percent less than the 2016 prediction.
"Some 87.8 percent ($3.73 billion) of SOFAZ's expenses will be transferred to the state budget, 11.8 percent ($502 million) will be directed for financing of a number of infrastructure projects and 29.3 million manats ($18 million) will be transferred for financing of the education of Azerbaijani youth abroad," said the message.
According to the forecasts, the GDP volume on oil sector will increase by 1.2 percent in 2017 and will be 19.74 billion manats ($12 billion), while the volume of value added production in non-oil sector will increase by 0.4 percent, as compared to 2016, and is expected at the level of 41.68 billion manats ($25.5 billion).
The share of oil sector in GDP is forecasted at the level of 32.1 percent for 2017 compared to 28.3 percent in 2016.
---
Rashid Shirinov is AzerNews' staff journalist, follow him on Twitter: @RashidShirinov
Follow us on Twitter @AzerNewsAz