Head of Azerbaijani community: Karabakh Armenians suffer from Armenian invasion policy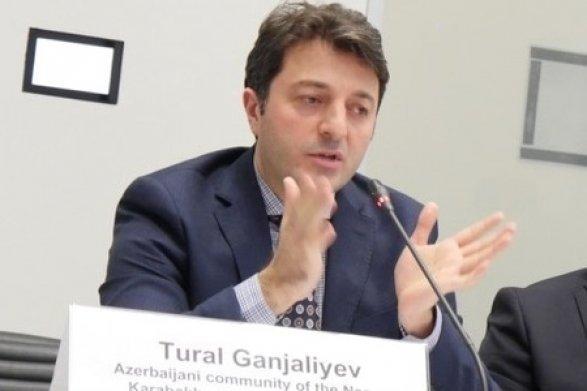 By Abdul Kerimkhanov
Armenian leadership obstructs intercommunal dialogue, trying in every way to prevent the establishment of any personal relations between Armenian and Azerbaijani communities.
In turn, Azerbaijan continues to hope to establish a dialogue with representatives of the Armenian community and to restore the once-normal human relations.
Tural Gyanjaliyev, head of the Azerbaijani community of the Nagorno-Karabakh region of Azerbaijan, responded to the statement of the adviser to the so-called head of Karabakh on security issues, Tigran Abramyan.
He said inappropriate and unconstructive appeals of the separatist regime's representatives created in the occupied Azerbaijani territories, which are detrimental to the negotiations held on the Nagorno-Karabakh conflict peaceful settlement, are no longer surprising.
Gyanjaliyev noted that the only way of peaceful settlement of the conflict is possible only in the event of the Armenian troops' withdrawal from Azerbaijani territories and the repatriation of the Azerbaijani population expelled from their homelands. Therefore, the creation of a non-constructive atmosphere is unacceptable.
Azerbaijani official reminded that conquering Armenia is known as a militarized country not only in the region but also internationally.
He noted that provocative statements by Abramyan in connection with the involvement of fictional regime's representatives in the negotiations process contradict the spirit and format of the negotiations held on the Armenian-Azerbaijani Nagorno-Karabakh conflict.
Ganjaliyev stressed that Abramyan did not note the equal rights of the Azerbaijani and Armenian communities of the Nagorno-Karabakh and this points out that Armenia is not interested in the peaceful settlement of the conflict.
He recalled that the regime created in occupied Karabakh is under the direct control of Armenia and exists thanks to its political, financial and military support, adding that Karabakh Armenians also suffer from this occupation policy.
Ganjaliyev said members of the Azerbaijani community believe that they will again be able to coexist peacefully with the Armenian community of the Nagorno-Karabakh region within the internationally recognized borders, sovereignty and territorial integrity of Azerbaijan.
Baku strengthens the role of the Azerbaijani community and wants to ensure equal access to negotiations of the Armenian and Azerbaijani communities in the region.
In determining the status of Nagorno-Karabakh, it is impossible to take as a basis the position of only the Armenian side. The Azerbaijani community, which as a result of ethnic cleansing was forced to leave their homes, has the legal right to participate in determining the future legal status of Nagorno-Karabakh.
Without the recognition of this right, a comprehensive and fair settlement of the conflict cannot be achieved.
---
Abdul Kerimkhanov is AzerNews' staff journalist, follow him on Twitter: @AbdulKerim94
Follow us on Twitter @AzerNewsAz