Blogger Lapshin pardoned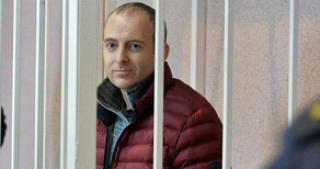 By Rashid Shirinov
The case of Aleksandr Lapshin, a travel blogger with several citizenships, shows that the international laws should not be violated while proving that the unresolved Karabakh conflict creates new possibilities for hostilities.
The blogger illegally visited the occupied Azerbaijani lands in April 2011, thus disrespecting Azerbaijan's territorial integrity, and also crossed Azerbaijan's border once again by visiting the country in October 2012 using a different passport. The blogger also called for the independence of Nagorno-Karabakh in his blog posts.
Lapshin was extradited from Belarus to Baku on February 7 and sentenced for three years later in July.
But, President Ilham Aliyev signed an order on September 11 to pardon blogger Alexander Lapshin, thus proving that Baku has no intention to punish anyone for the sins of Armenia, but only seeks to protect its historical lands and establish the justice.
During the investigation and trial, all rights of Alexander Lapshin were secured, and all necessary conditions were created for representatives of the consulates of the countries, citizenship of which Lapshin holds, for contact with him.
Azerbaijan has long ago notified the world community that unauthorized visits to Nagorno-Karabakh and other regions of the country occupied by Armenian armed forces are illegal, and any individual paying such visits will be included into Azerbaijani Foreign Ministry's "black list".
Alexander Lapshin's arrest and sentence showed that Azerbaijan stands for its laws, and that no crime against the country, its territorial integrity and sovereignty will go unpunished.
This event will be a serious lesson for everyone who doesn't or is unwilling to respect the territorial integrity and the principle of inviolability of Azerbaijani borders, and make those who intends to resort to similar illegal actions think well in advance.
Next time, those individuals who are going to break the laws of Azerbaijan and illegally visit the country's lands will have to study Lapshin's story and ask themselves if they are ready to lose their freedom just for the sake of meeting with Armenian occupants in Azerbaijani lands.
--
Rashid Shirinov is AzerNews' staff journalist, follow him on Twitter: @RashidShirinov
Follow us on Twitter @AzerNewsAz